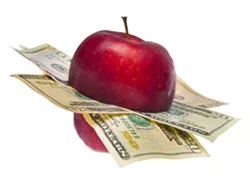 Between January and May, Detroit Public Schools spent $285,000 on a private attorney to sue two teachers they believe had an instrumental hand in the district's widespread sick-outs.
The news, uncovered through Freedom of Information Act requests submitted by the
Detroit News,
comes with a hint of irony: during the months DPS was accruing hefty legal fees, the district was also arguing that it didn't have enough funds to pay teachers for work they had already completed — and more significantly, representatives of the district like Emergency Manager Judge Steven Rhodes were pleading with Michigan legislators to pass a financial rescue package.
Considering the
average teacher salary
in DPS is $63,716, this means that funds that could have paid nearly five people's salaries went towards legal fees to sue teachers who were fighting this winter, when the suit was filed, against deplorable working conditions — like the ones that would eventually keep students out of summer school because an estimated 50 DPS's buildings lack air conditioning — and a say in the legislative debates surrounding their district. The continued irony being, that when these same "sick-out" protests continued in the spring the demands were more pressing — and notable to the suit —
promised pay
and a forensic audit to uncover district spending.
When asked to justify the questionable legal fees DPS gave
MT
a rote answer no different from their response to the
Detroit News.
"As indicated, we cannot comment on pending litigation," Chrystal Wilson a DPS spokesperson said.
The January through May fees, revealed through the FOIA request, were spent on local attorney George Butler and associates of the Dickinson Wright law firm. That said, the case against the teachers is still pending (a decision is expected by this Sunday) meaning the total cost is in fact more than $285,000, considering June and July fees are still unknown.
What we do know, however, is that in a recent hearing Butler shared with the judge overseeing the case that he is being paid $475 an hour.
The Detroit News
was able to confirm this fact with DPS assistant general counsel Marquita Sylvia.
So, what's up with the two teachers being sued — and why was it so important for DPS to bypass its own staff attorneys?
The individuals being sued are Steve Conn — the ousted president of the Detroit Federation of Teachers and an educator at Western International — and Nicole Conaway — a teacher at East English Village Academy High School.
According to the
Detroit News,
Sylvia, of the district's general counsel, explained that DPS wanted to go with outside representation because it believed independent lawyers would be best prepared to deal with "specialized matters which require certain expertise and or to augment the efforts of in-house counsel." In other words, the district wanted to go all in when penalizing the teachers in question.
What's interesting about this particular case against Conn and Conaway — and the district's zealous (and costly) persecution of the two — is it is unclear if they, or the organization they're affiliated with, BAMN (short for By Any Means Necessary), are truly the galvanizing force behind the sick-outs. While Conn got a lot of media attention last winter during the first round of sick-outs, some local teachers argued that the focus was misdirected and that the sick-outs were not spearheaded by BAMN and Conn but rather a more grassroots push from within.
This discrepancy over who started the sick-outs adds an interesting spin to the litigation, as Conn has been vocal with the press about his leadership in the protests, but also needs to argue in court that he was not the leading force. For some teachers this co-opting of organizing efforts is a point of contention.
"Conn has been effectively erasing the tireless work of the veteran women of color educators who actually mobilized teachers and the community through their grassroots organizing in his comments to the press, and now the proverbial chickens come home to roost," DPS educator Emma Howland-Bolton tells
MT. "
What's utterly absurd is that the district is prioritizing spending hundreds of thousands of dollars to prosecute Conn and his crony for something they actually didn't do. That money could be spent, should be spent, to cover the salaries and benefits for educators desperately needed in our teacher-strapped district, with over 300 vacancies and counting. Everyone, Conn, the District, and the state just continue to demonstrate that their priority here is not ensuring equitable educational opportunity for students, but rather seeking their own petty self-aggrandizement and at a tremendous cost to all involved."