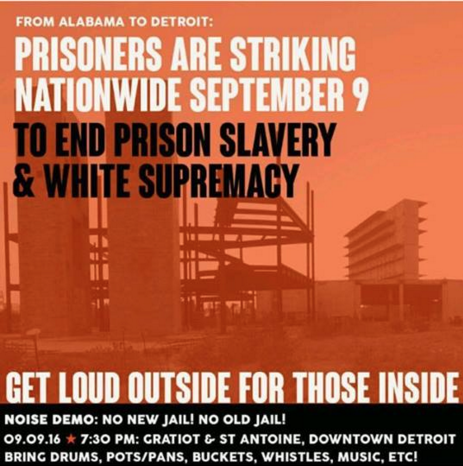 Here's something you're unlikely to learn about from the mainstream media today:
Prisoners across the United States are striking today
.
They will refuse to work in protest of "modern day slavery" — a demand that is backed up by facts showing the injustice of the modern-day "carceral state."
As Wired magazine points out
, "Of the United States' some 2.4 million prisoners, about 900,000 work. A lot of that work is for the prison itself or for the public sector, but corporations—Walmart, Victoria's Secret, AT&T—contract work out to prisons, too. The estimated annual dollar value of their output runs in the billions, while prisoner laborers make just cents per hour."
The strike is happening on the 45th anniversary of the
Attica Prison uprising
, an important moment in the prisoners' rights movement that began on Sept. 9, 1971, when prisoners seized control of the institution. (More on that later.)
The national strike's action plan goes beyond organizing prison shutdowns into campaigns, protests and boycotts "of companies that profit from prison labor." There's even a role for people outside the system to protest "at the prisons where the people are mass incarcerated and oppressed."
Standing in solidarity with the striking prisoners, some in Detroit are gathering downtown tonight for their own protest.
The site for that protest in Detroit will be around the "Fail Jail" which lies uncompleted by Wayne County after cost overruns. A flier for the event urged protestors to bring drums, pots, pans, whistles, and other noisemakers to help pound out the message: "No new jail, no old jail."
The nationwide strike comes after several strikes at various prisons.
Mother Jones points out
that there was one in Texas in April and one in Alabama in May.
And
Metro Times
readers are aware that
another protest took place in Michigan in March
, in response to the disgusting, substandard food that has become common since Gov. Rick Snyder privatized prison food services.
That protest
saw about 1,000 inmates at Kinross Correctional Facility skipping meals in silent protest of the food.
That action came after widely reported stories about food service contractors serving rotten meat, food tainted by maggots, smuggling heroin and cocaine into prison, and having sex with inmates, as well as overbilling the state millions of dollars.
Our own report from Oakland County Jail
, which provided privatized food service, showed just how dire the situation can be.
And though the strike organizers have chosen to highlight the way prison labor is exploited, substandard food is something the organizers of today's protest are vocal about, as in
this video of moldy food
from the Free Alabama Movement.
For those who don't know what the Attica Uprising was, it was an uprising at a prison in New York state that, however briefly, won the sympathy of many people. There's
a current book
out about it by former U-M professor Heather Ann Thompson that has received
excellent reviews
in
The New York Times
, and even occasioned
an article on how important reforms were never instituted
. In fact, the paper let Thompson write
an opinion piece
on the injustice that lingers over U.S. prisons today.
We've known about Thompson for a while: We profiled her 14 years ago in
a piece on historians re-examining Detroit's history
. (Also, as former
MT
Editor W. Kim Heron recently pointed out to us, the Attica story itself has a
number
of
Detroit
connections we've
covered
over the
years
.)
Suffice it to say that the cry of "Attica!" became a rousing call that resonated with a generation disillusioned by war, Watergate, and authority figures from the president to the prison guard.
Several people that didn't read this entire article will, of course, comment that prisoners should be eating moldy food and should consider themselves lucky to get 9 cents a month for their labors. In other words, inmates should accept whatever foul conditions prevail.
It's worth pointing out that this view is entirely irresponsible. While prisoners lose many of their rights, only in a police state do they lose all of them.
Also, if you really believe prisoners deserve whatever they get, you'd find yourself in stark disagreement with the groups that represent prison guards. In March, one of the groups most concerned about these protests and prisoners not getting quality food was the Michigan Corrections Organization, the labor union representing more than 10,0000 corrections personnel in the state of Michigan.
See, they don't like it when any grievance is so undeniable that it gets 1,000 prisoners to agree to engage in protest. It makes their job more dangerous, more difficult, and more demanding.
Similarly, you'll find that
national groups
representing prison guards are alarmed when thousands of prisoners across the country have grievances so clear they're willing to risk being put in solitary by expressing their views in a strike.
Those wishing to join this national day of protest are invited to come down to the Fail Jail at 7:30 p.m. tonight. Those who oppose the modern carceral state, prison conditions, private prison contractors, or anything else related are urged to show. But you don't have to be a prison activist or have a relative or friend in stir to see how skewed priorities go hand in hand with the rise of prisons. It costs a butt-load of money to keep more than 2 million adults in prison. For instance, the prison boom eats up a lot of money that would normally go to social services. According to a report issued this year by the U.S. Department of Education, between 1979 and 2013, Michigan increased spending on schools by 18 percent.
During that same period, it increased spending on corrections by
219 percent
.
In fact, Michigan devotes a bigger share of its general fund budget to prisons than
any other state
.
Any way you look at it, this is one issue that deserves the scrutiny this protest is prompting.
The protest takes place tonight at 7:30 p.m. at Gratiot Avenue and St. Antoine Street.