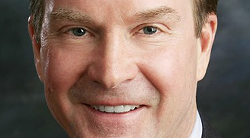 Attorney General Bill Schuette reportedly won't join more than a dozen of his peers in suing the Trump administration over its plan to add a citizenship question to the 2020 census.
Attorneys general in at least 12 states have signaled they'll join a suit alleging the change is unconstitutional. California's AG has already filed a separate suit. The addition of a question that asks census respondents whether they're U.S. citizens is widely expected to lead fewer immigrants to participate, meaning Michigan could lose federal funding for persons not counted and potentially lose Democratic representation in Congress depending on how districts would be redrawn.
Schuette's spokeswoman initially told the
Detroit Free Press
the attorney general did not intend to join the multi-state lawsuit because he hadn't been asked. When pressed by the paper on whether he'd consider suing independently, the spokeswoman reportedly said she would not comment on "a hypothetical." Asked whether Schuette could reach out to other attorneys general on the issue himself, the spokeswoman told the Freep that he had not been contacted "because this is about politics, not public policy or rule of law."
Schuette supported Donald Trump's presidential bid and is a Republican candidate for Michigan governor.
This is reportedly the first time since 1970 that the Census is to include a question about US citizenship. The Justice Department initially requested the change late last year and, this week, the Commerce Department obliged, saying it would help better enforce the Voting Rights Act. The Commerce Department oversees the Census Bureau.
The constitution requires a count of every person in the country every ten years, regardless of citizenship status. The results then determine how the federal government allots its resources.
In a piece penned last fall for the
Brookings Institute's blog
, former Commerce Department head Robert Shapiro described the possibly devastating effects of a major undercount. (In a piece this week, he said he expects up to about
24 million people might skip the Census
if the citizenship question is included.)
Consider as well that every year, the federal government distributes about $600 billion in funds to state and local governments for education, Medicaid and other health programs, highways, housing, law enforcement and much more. To do so, the government uses formulas with terms for each area's level of education, income or poverty rate, racial and family composition, and more. The decennial Census provides the baseline for those distributions by counting the people with each of those characteristics in each state and Census block. Similarly, the Census Bureau conducts scores of additional surveys every year on behalf of most domestic departments of government, to help them assess the effectiveness of their programs. Here again, the decennial Census provides the baseline for measuring each program's progress or lack of it.

Without an accurate Census, many states and cities will be denied the full funding they deserve and need, and the federal government will have to fly blind for a decade across a range of important areas. Moreover, many businesses also rely on decennial data, from retailers and commercial real estate developers to the banks that finance them. Data on the demographics and locations of potential customers not only inform their planning and investments. In some cases, the data actually make their projects possible, for example, when an investment qualifies for special tax treatment if it occurs in places with certain concentrations of low or moderate-income households.

Schuette's spokeswoman did not reply to a request for comment Friday.
Stay on top of Detroit news and views. Sign up for our weekly issue newsletter delivered each Wednesday.