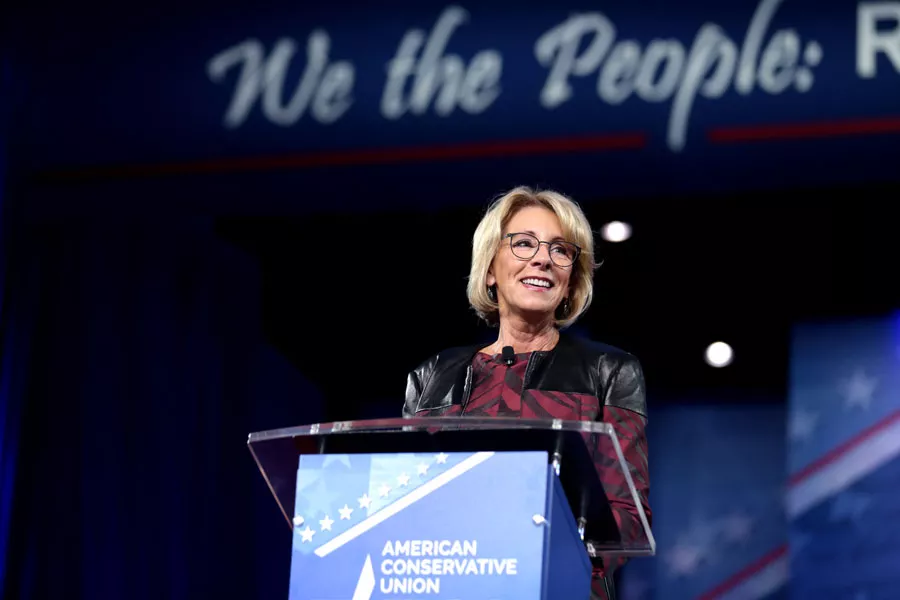 A year after her shaky hearings, the limitations Democrats faced digging into her past paid dividends for DeVos, her family, and one of her favored corporations. On Jan. 12, it was announced that a company named Performant Financial Corp. would receive one of two lucrative contracts, enabling it to assist the Department of Education in collecting overdue student loans.
The announcement was a boon to Performant, who had spent a year locked out of the Department of Education's lucrative contracts. But perhaps more importantly it would provide a tidy boost to the DeVos family's bottom line.
Among the many financial entanglements DeVos brought with her to Washington, one was a DeVos family investment company named RDV Corporation. RDV was, in turn, tied to the Delaware-based company LMF WF Portfolio I LLC. And that confusing series of letters from Delaware was a financial backer of Performant.
Prior to DeVos being tapped as Secretary of Education, this was good business for the family fortune — the loan servicing company had already received millions of dollars in past Department of Education loan servicing contracts. Every time the company collected on a loan, they took home a commission from the Department of Education. Those commissions provided a little bit of profitable cream for the DeVos family's investment portfolio — trickle-down economics in the truest sense of the word.
It was a pretty good trickle at that. Performant's 2016 financial report noted that the company had "provided recovery services on approximately $8.6 billion of combined student loans and other delinquent federal and state receivables," including the skip-tracing of defaulted lenders, wage garnishment, and "litigation services."
Prior to DeVos being tapped as Secretary of Education, student loan collection was good business for the family fortune.

tweet this
According to a January 2017 Bloomberg report, Performant had a "total revenue of $148.7 million in its most recently reported four quarters," ending in October of 2016. And this money was all coming in at a time when Performant had to compete for Department of Education business amid a sizable field of firms awarded similar contracts.
Along the way, however, Performant managed to rack up 346 customer complaints with the Better Business Bureau, as well as a healthy share of customer complaints to the Consumer Financial Protection Bureau. It's perhaps not that surprising that in December of 2016, Performant was excluded from a new contract with the Department of Education — a move that sent Performant's share value down "43 percent in one day," according to Bloomberg.
This all meant that a not-insignificant portion of the DeVos family fortune, knit up in the profits taken by a loan-servicing scofflaw, was lost a few weeks before Trump's inauguration.
Of course the moment DeVos was picked to be Trump's nominee, it triggered a series of mandatory divestitures, in keeping with the guidance offered by the Office of Government Ethics. From an ethical standpoint, such divestments were necessary to prevent potential Cabinet members like DeVos from feathering their own nest with the largesse that lucrative government contracts offered.
Greg McNeilly, a spokesperson for DeVos, told Bloomberg that she and her husband would, indeed, rid herself of her stake in Performant. However, he did take pains to mention that this would not "obligate other family members or RDV itself to divest" from Performant.
Performant's performance thus still had a role to play in the DeVos family's bankrolls. That puts the steps that the Education Department under DeVos took next in a new light.
DeVos began by defanging the government watchdogs who had traditionally policed the student loan beat, dogging companies like Performant for their failures to properly assist their customers. On April 11, DeVos formally withdrew two memos issued by the Obama administration that offered guidance to the Federal Student Aid office — responsible for servicing over $1 billion in student loans — on how to provide better service to borrowers who wanted to manage, or even discharge, their student debt. For the Obama administration it was a late-in-arriving but vital course correction for the agency, which had hitherto acted mainly in the interest of maximizing repayment proceeds.
The Obama administration rightly faced tremendous pressure to tame the unruly world of student loan servicing, and make things fairer and more equitable for borrowers. Notably, there was a great need to get the Department of Education more fully involved in protecting consumers. As the Nation's David Dayen reported, the Department's "own inspector general found in 2014 that the department didn't even track borrower complaints, let alone engage in actual oversight."
Much of the work being done to assist borrowers was conducted by the Consumer Financial Protection Bureau and the Government Accountability Office, which found the world of student loan servicing to be an Augean Stable of cheats and mismanagement. As the Washington Post's Danielle Douglas-Gabriel reported in April of 2017, the CFPB had documented numerous "instances of servicing companies providing inconsistent information, misplacing paperwork, or charging unexpected fees." And GAO researchers found that 70 percent of borrowers who had ended up in default would have qualified for lower monthly payment options that would have kept them in good graces — had loan servicers bothered to provide them with the necessary information.
By the end of the Obama administration, the CFPB had emerged as one of the more dogged cops on the student loan beat. Their efforts were bolstered by an information-sharing arrangement with the Department of Education, which the CFPB used to research and rein in loan-servicer scofflaws. In August of 2017, the head of the Department's Financial Student Aid agency, A. Wayne Johnson, sent a letter to then-CFPB head Richard Cordray, terminating this information-sharing arrangement.
According to Johnson — who prior to being hired by DeVos was the CEO and founder of a private student loan company named Reunion Financial Services — the ostensible rationale for ending this interagency partnership was a complaint that the CFPB had "violated the intent" of the arrangement by failing to direct Title IV federal student loan complaints to the Department of Education in a timely enough fashion, and for expanding the CFPB's "jurisdiction into areas that Congress never envisioned," in reference to the consumer protection agency's lawsuit against Navient, another bad actor in the student loan collection wilderness.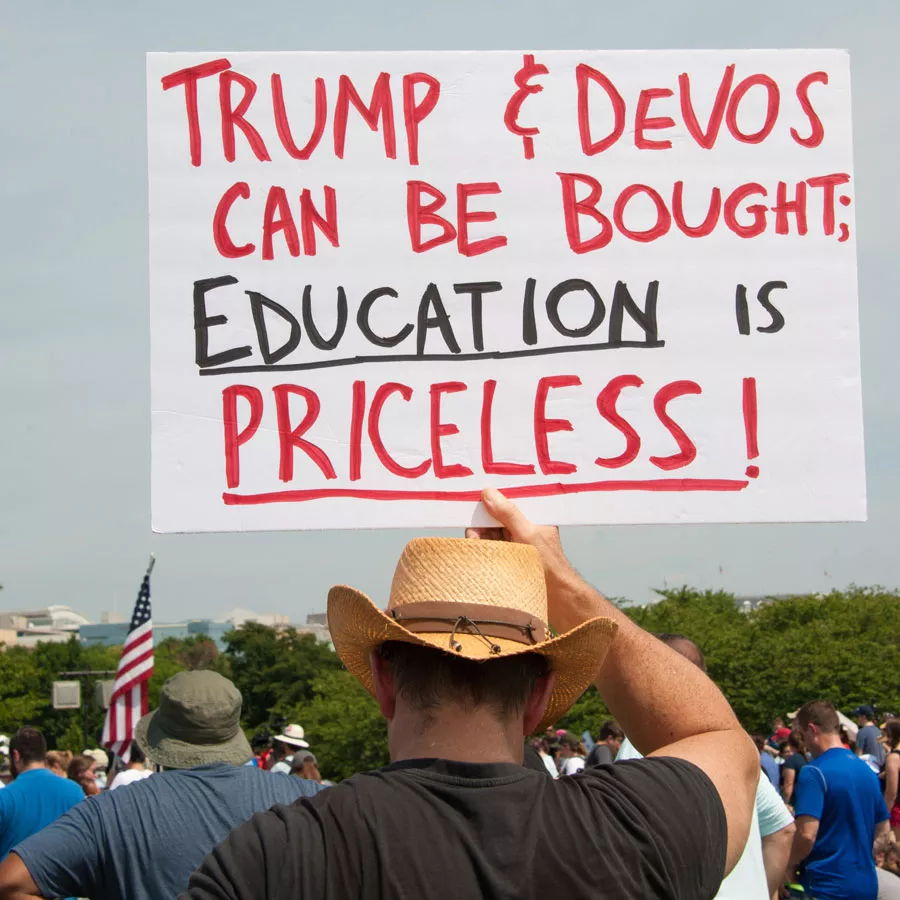 Johnson's letter sprinkled a little creatine all over Wall Street. As Bloomberg's Shahien Nasiripour reported, Compass Point research director Michael Tarkan immediately recommended that his clients invest in loan servicing companies. Tarkan said that the Department of Education's was an "unambiguous signal" that the Trump administration (and DeVos) was going to be much more accommodating to student loan companies in terms of oversight and scrutiny.
But that would hardly be the only way DeVos would work to Performant's benefit. Not only will this new contract bring the company back into the Department of Education's loan servicer fold after a year of having been cut out entirely, they will be one of only two companies cut in on Department of Education's student loan portfolio. In the past, the Department has contracted with as many as 17 firms to perform student loan collection, and as The Washington Post noted, "Attempts to whittle down the number of firms have been met with resistance."
Two years ago, when only seven companies were selected to manage the portfolio, it touched off considerable protestations among those companies that were left out of the process — the January 2018 decision to select new contractors was supposed to resolve this conflict. But DeVos' Department of Education has, perhaps, only re-inflamed this controversy by reducing the field even further: Performant is joined by only one other firm, Windham Professionals, in servicing loan contracts worth an estimated $400 million.
Windham, at the very least, deserved to be dealt in. Back when the field of servicers was reduced to seven firms, protests from the companies that were left out — including Performant — forced the Government Accountability Office to undertake a thorough evaluation of all the companies that had submitted bids. According to the GAO's subsequent report, Windham held up quite well in the crowded field, earning an "exceptional" rating for past performance and a "satisfactory" rating for management. Performant, by contrast, did not fare as well — they only rated "satisfactory" in terms of past performance, and "marginal" on management.
Performant's resurrection has raised eyebrows. As Todd Canni, an attorney for one of the bidders that lost out in the process, told The Washington Post, "It simply does not make sense that the agency would choose to work with lower-rated [companies] with marginal ratings that do not have an exceptional past performance record." Indeed, going just by the GAO's evaluation, there were six other firms besides Windham that rated higher than Performant in the categories of past performance and overall management.
Performant's good news sent their stock price skyrocketing. Meanwhile, spokespersons for everyone involved stepped forward to say the required pleasantries. A Department of Education flack ensured reporters that DeVos had "no knowledge, let alone involvement" in the decision to award Performant the new contract. Richard Zubek, Performant's head of investor relations, followed suit by insisting that no one from the firm "had any direct or indirect contact with Secretary DeVos or anyone related to Mrs. DeVos."
But given Performant's checkered history and mediocre ratings, as well as the existence of substantially higher-rated options among the many companies that had performed loan collection work for the Department of Education, it's difficult to fathom what particular quality allowed Performant to surge back to prominence in the eyes of the Department of Education and to be cut in on more profitable terms this time around. As Canni told The Washington Post, "It is beyond dispute that the [Education Department's] decisions have, at a minimum, created the appearance of a conflict of interest," adding, "Given the fact that Performant was not a highly rated [company] and, in fact, was rated fairly low ... the agency will be under intense scrutiny and will need to explain how suddenly these ratings changed so significantly to allow Performant to leapfrog over so many" more deserving firms.
Of course, with the CFPB sidelined, it's not clear from whence this scrutiny will come. What is clear is that the decision is, in any event, going to be good for the DeVos family's business — providing seed money to Republican office-seekers and the infrastructure of the conservative movement.
Reprinted from School House Wreck: The Betsy DeVos Story with permission from publisher Strong Arm Press. The book is available at strongarmpress.com.