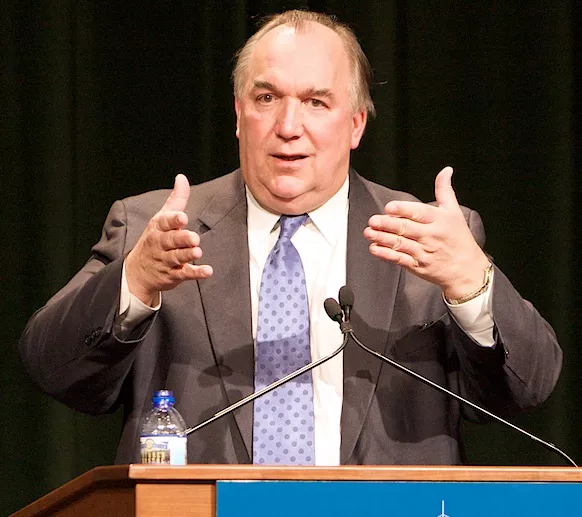 In the wake of the major sexual abuse scandal that rocked Michigan State University, how eager are MSU officials to look deep down into their souls and find what went wrong?
"Not
that
deep" would seem to be the response, judging from reactions to the choice of former Michigan Gov. John Engler as interim president of the university.
Yesterday afternoon,
the Detroit Free Press ran with statements from Rachael Denhollander
, the first person to file criminal charges against ex-USA Gymnastics doctor Larry Nassar. She said she was "beyond disappointed" with the choice of Engler, citing him as an example of the consummate MSU insider at a time when an outsider is needed to ensure accountability.
Denhollander isn't alone.
As MLive reported
, some MSU faculty say they'll push for a no confidence vote targeting the MSU board of trustees if they appoint Engler. In a letter, they charged that the board seemed to have selected, "without appropriate consultation from the MSU community, an individual with no academic leadership experience."
Judging by a variety of other posts on social networking regarding Engler and the depth and breadth of his relationships with Michigan's GOP, it's safe to say some see a fair amount of ass-grabbing behind the scenes in the Old Boys Network that bodes ill for justice.
Perhaps more worrisome, Engler was in charge of the Michigan Department of Corrections when
an estimated 500 female inmates
were raped by guards.
Eventually, the Justice Department had to get involved
.
But it sounds like those skeptical, disappointed, and outraged voices are being heard in Lansing at the board meeting this morning. As a
Twitter feed from R.J. Wolcott
run in
this morning's Lansing State Journal describes it
, Dan Martel, an MSU senior with the group MSU Dems, said MSU doesn't need a politician as president.
According to the tweets, Martel said that students marched on Friday, demanding transparency and actions by trustees that restore trust, and instead, "What we got were shady backroom dealings, which resulted in the political appointment of a straight, white, wealthy male who is just conservative enough to keep our elected officials down Michigan Ave. pacified for a little while longer." At the end of the meeting, Wolcott noted, trustee Brian Mosallam "slammed his chair when he got up to leave the meeting, appeared visibly frustrated."
In short, it appears that Michigan's political fixers are trying to take control of the situation, determined to take the story out of the media and control the narrative. Is it too much to presume they'll also temper the search for justice with mercy toward their old friends and colleagues? After all, why should a housecleaning affect the livelihoods of party members in good standing?