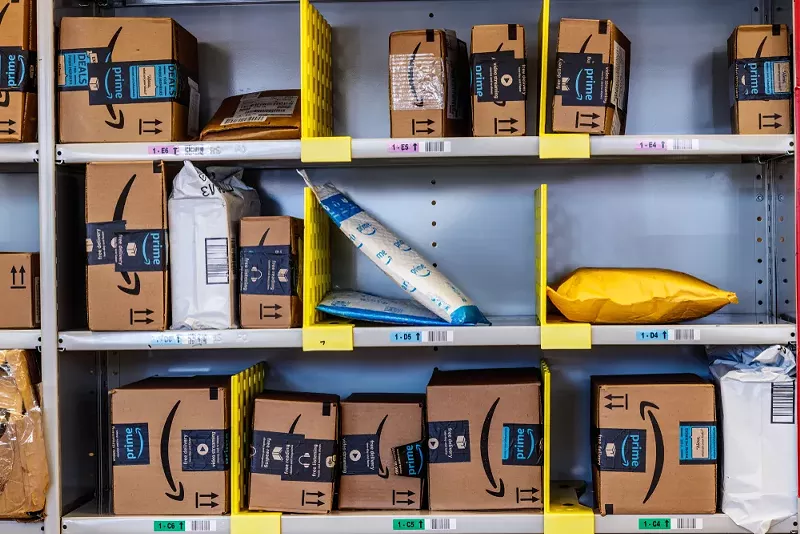 Workers at Amazon's Romulus order-fulfillment center walked out Wednesday in protest of working conditions and the lack of transparency within their facility after
management neglected to inform its staff
when the first positive COVID-19 case was confirmed. So far, it's been reported that three people within the warehouse have tested positive.
As of last week,
at least 10 Amazon facilities
have reported positive coronavirus cases. Last month, the company pledged to hire 100,000 warehouse workers and to increase their pay, due to high demand.
The Romulus warehouse referred to as DTW1 employs 4,000 workers, which has made it near to impossible for people to practice social distancing to prevent the spread of the virus, putting many employees at risk of infection. Workers are calling for a two-week shutdown of the facility, which would be made possible if Amazon halted the sale of non-essential items. In March, the $160 billion online retailer
promised to prioritize the shipment of essential items
, like toilet paper, disinfectant products, and medical staples, and to temporarily limit shipments of those deemed non-essential.
One DTW1 warehouse worker, Mario Chippen, is particularly tired of risking his health and the health of his family to process an item that could easily be replaced with dextrous handiwork.
"They should not be selling non-essential items,"
Mario Chippen said of Amazon's policies
on Wednesday. "If you go on the website, all of the essential items are sold out. Until you restock and until you close this building, shut it down."
"Dildos are not essential items," he added. "Books for kids, yes, but dildos? No."
This Amazon worker in Metro Detroit is sick of y'all shit (h/t @kimrussell7) pic.twitter.com/gEQeK7iiLV

— Jemele Hill (@jemelehill) April 2, 2020
Are dildos essential? In late March, New York City's Health Department issued a
guide to having safe sex in the age of coronavirus
, including this nugget: "you are your safest sex partner."
With millions of people social distancing, it's no surprise that sex toy sales are on the rise. As
Mashable
reports, one company,
Emojibater
(yes, it sells sex toys that resemble iPhone emojis) saw a 225% increase in sales between the first and second week in March. Similar spikes for sex toy manufacturers have been reported globally.
The Quarantine Economy — Jeff Bezos is the only billionaire out of the top 20 whose wealth has increased this year. pic.twitter.com/HzAlaa7skW

— Robert Frank (@robtfrank) March 30, 2020
But no one has seen sales and stock skyrocket quite like Amazon and the company's overlord, Jeff Bezos,
the richest man on Earth
. Bezos is one of the only billionaires in the top 20 who saw an increase in wealth so far this year, which may have something to do with his
strategic stock dump
just before the coronavirus crisis erupted, adding a whopping
$3.4 billion to his $116 billion
(and growing) fortune.
Meanwhile, earlier this week, an Amazon facility in New York
fired its assistant manager after he led a strike
demanding protective gear and hazard pay as he and his co-workers work tirelessly through the COVID-19 pandemic.
When
Detroit's WXYZ
approached Amazon for comment regarding the video of 30-some Romulus workers protesting, the company issued a statement, claiming that of the 4,000 employees, "less than 15 people participated" in the demonstration. The company added that its employees are "heroes fighting for their communities and helping people get critical items they need in a crisis."
You know, like dildos.

Stay on top of Detroit news and views. Sign up for our weekly issue newsletter delivered each Wednesday.
hr