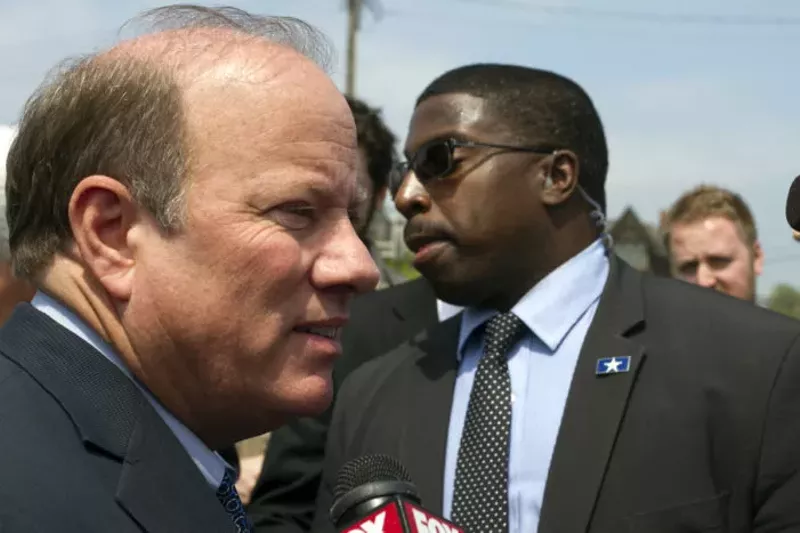 Detroit businessman Robert Carmack has claimed he was charged with four felonies in retaliation for airing surveillance footage of Mayor Mike Duggan having an alleged extramarital affair with a woman in Oakland County.
The charges in December came one month after Duggan held a press conference to call on a state police investigation of Carmack for allegedly trying to extort the mayor.
The allegations of retaliation were aired in a 36th District courtroom Wednesday afternoon. At issue was whether Duggan had to testify in the criminal case in which Carmack, a star witness in an FBI bribery investigation, is accused of selling property he didn't own.
Duggan's attorneys dismissed the claims of retaliation, saying the allegations were "a smokescreen in an effort to embarrass the mayor."
Carmack's attorney, Steve Haney, countered that his client "struck a nerve" with Duggan for airing surveillance of him having "a late-night rendezvous with a woman." He added that Carmack alleged in a lawsuit filed in March 2018 that the city demolished his property to sell it to someone else.
Haney said Carmack's "freedom is on the line," and he "has the right to question anyone who has relevant testimony."
Judge Cynthia LaToye Miller ruled that Duggan doesn't have to testify, saying Carmack's retaliation claims are "rife with speculation, and in my mind, is a conspiracy theory."
Miller noted the impetus for the criminal charges began in May 2017 – "well before any press conference" – when a city attorney found irregularities in the sale of property that Carmack is accused of unlawfully selling because he didn't own it.
"I don't see any reason for Mayor Duggan to be brought into this court," Miller said.
Carmack contends he did own the property and even paid taxes on it.
Carmack is the star witness in a criminal bribery case against Detroit Councilman Gabe Leland, who was indicted in October. Carmack, with the help of the FBI, recorded his interactions with Leland, who is accused of accepting $7,500 in bribes and free car repairs from Carmack.
During a deposition in the Carmack lawsuit last year, Leland refused to say whether he accepted a bribe from Carmack or Dennis Archer Jr., a friend and major campaign supporter of Duggan.
When asked whether he took bribes from the mayor, Carmack answered "no." The bribery investigation is ongoing and is part of
a widening public corruption probe
that has netted more than 40 indictments in metro Detroit.
Stay on top of Detroit news and views. Sign up for our weekly issue newsletter delivered each Wednesday.