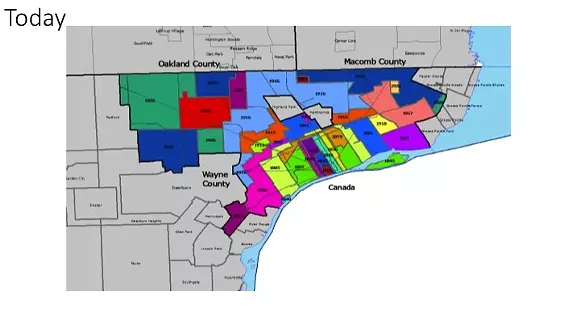 Today, Detroit stands at 142.9 square miles — regarded as too big for its current population of less than 700,000 residents. When it was incorporated in 1806, the city stood at only .33 square miles. Detroit grew to its current size through a series of annexations, which abruptly halted in 1926 when the State Legislature passed a law that made annexations more difficult.
Drawing Detroit
, a blog by the staff of the Center for Urban Studies at Wayne State University, has taken a graphical look at the history of the city's growth, including a slideshow that shows the city swallowing new territories. In doing so, they pose a question: Did Detroit's downturn happen not because it grew too large, but because it didn't annex even more land? As Drawing Detroit writes:
After 1926 annexations were made much harder. Home Rules for cities and villages made it easier for the surrounding communities to both incorporate and avoid joining the City of Detroit. These home rules have set up something of a "turf war" with residents/politicians creating a dysfunctional system where they compete over resources, rather than working together as a regional unit.
Head over to Drawing Detroit to read the
full post
.