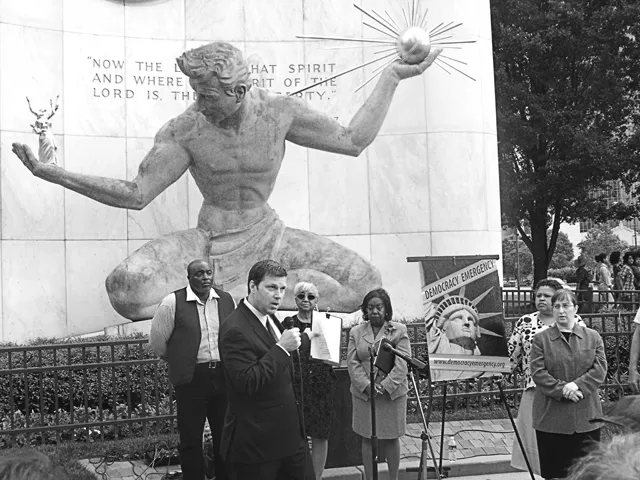 Recent events have prompted the team here at News Hits to dip into our memory banks in an attempt to extract some of the lessons learned long ago in our high school civics classes.
It has been a while since we studied the basic principles of democracy, and the genius of those founding fathers who devised a system of government intended to protect us from the kind of tyranny that sparked a revolution.
Now, it may be that we are mistaken, because it has been many a year since we sat in a classroom and pretended to listen, but it seems to us that one of the key components in the framework that made our system so strong is something called "checks and balances."
In fact, we were close to being convinced that we might be mistaken. Maybe checks and balances — different branches of government, each serving a different role, all designed to keep a balance of power in place so that no single force could come to dominate us — weren't really all that important.
After all, that was the message inherent in the emergency manager legislation proposed by Gov. Rick Snyder and given speedy approval by the Republican-dominated Legislature. Our thinking went something like, "Geez, if a guy as rich and successful and nerdy as Snyder doesn't think that checks and balances are all that important, maybe our memory is more impaired than we'd like to believe, and what we thought was a basic, undeniable fact turned out to be a misconception."
It's possible that we slept through the part of class where the teacher said, "Checks and balances are a fundamental part of our government — except when things get tough. Then it is all right to set up mini-dictatorships. Because the bottom line is that, as much as we like to trumpet the virtues of democracy, deep down most of us are just too stupid to govern ourselves."
Yeah, we told ourselves. Maybe we did miss that part — just like we missed the part of Snyder's gubernatorial campaign where he promised voters that one of his first major acts after taking office would be to make it infinitely easier for people to completely lose control of their local governments.
But, as it turns out, it looks like the nerd is the one who wasn't paying close attention in civics class.
At least that's what a group of very good lawyers are saying, and an untold number of really pissed-off citizens are proclaiming.
The attorneys — a group Detroit City Councilwoman JoAnn Watson referred to as a legal "dream team" — filed a lawsuit in Ingham County Circuit Court last week asserting that Snyder's emergency manager law violates basic rights guaranteed by our state's constitution.
Specifically, the suit claims that the law "effectively establishes a new form of government" in Michigan by allowing "cities, villages, townships and other forms of municipal corporations to be ruled by one unelected official and that this official's orders, appointments, expenditures and other decisions are not reviewable by local officials or local elected officials or voters."
The emergency managers, appointed by the state treasurer and accountable only to the state's executive branch, have the authority to seize and sell the assets of a public school system or city. They can eliminate collective bargaining rights for as long as five years. The can dismiss local elected officials. Hell, they can even dissolve whole cities, counties and school districts.
The scope of power is significantly greater than that handed to emergency financial managers under past legislation. Maybe Snyder looked at the achievements of Detroit Public Schools EFM Robert Bobb — who managed to multiply the debt he was supposed to eliminate — and thought, "Hmm, the problem is these guys don't have enough power."
But in doing so, claim opponents of the law, Snyder has gone way too far with his new emergency manager law.
"This is about our right to an elected government," said attorney John Philo during a press conference in front of the Spirit of Detroit statue last week when the lawsuit was announced.
Philo, one of that dream team Watson talked about, is legal director for the nonprofit Sugar Law Center for Economic & Social Justice. Others on the team include Detroit lawyers Bill Goodman and Julie Hurwitz, who are participating on behalf of the Detroit and Michigan branches of the left-leaning National Lawyers Guild. In their last big case, Hurwitz and Goodman took on the federal government and won, getting a ruling that Congress had acted illegally when it cut off funding to the group ACORN.
Also on the team, totaling 10 lawyers in all, is Darius Charney, who is with the New York City-based Center for Constitutional Rights.
Along with the state suit, Snyder and company are already defending this law against a similar suit filed in federal court by Detroit's two public pension systems.
As if that weren't enough to make Snyder think he might have gone too far, there's also the launch of a petition drive intended to put the fate of the emergency manager law directly to the voters.
That's significant. The courts, no matter how strong a case may be, are always a crapshoot. In our experience, the law can be twisted to accommodate the wishes of whoever is in power. It's the one place where that grand scheme formulated by the founders can fail us: When one party dominates all three branches of government, as the Republicans now do in Michigan, there is one final check on the powers that be.
Us.
And "us" is striking back. Just more than a week ago, citizens in 11 Michigan cities — ranging from Detroit to Benton Harbor to Ann Arbor to Marquette — held press conferences to announces efforts to get a referendum on the emergency manager law on the November 2012 ballot.
An estimated 2,000 volunteers will be circulating petitions in the coming months. Slightly more than 161,000 valid signatures are needed to get the question of repealing the law — known formally as Public Act 4 — in front of voters. Although they have until the spring of next year to achieve that goal, organizers intend to have the petitions delivered to the Secretary of State by as early as September.
That timing is important, says spokesman Greg Bowens, because if the requisite number of signatures are collected and validated, a stay is placed on the law until voters can have their say. In other words, implementation of Snyder's plan to take away the power of local elected officials will have to be put on hold.
The effort, which is receiving financial backing from organized labor, features the coming together of various constituencies — from progressive activists to teachers and municipal employees to faith-based groups. Jesse Jackson's Rainbow PUSH organization is also involved.
Bowens, in an attempt to put the issue into perspective, asked News Hits to imagine what the reaction would be if the U.S. Congress passed, and the president signed, a law declaring that any state unable to achieve a balanced budget and control its debt would have its legislature disbanded and its governor removed from office, with an appointed manager put in place to run the state as he pleased.
"People would go crazy," says Bowens. "There would be a civil war."
But it's just that sort of usurpation that Snyder and the Legislature are trying to impose on Michigan. "It is a naked power grab," asserts Bowens.
So naked, he says, that the repeal effort is even attracting the support of some on the far right who are philosophically opposed to the sort of expansion of government power that this law represents.
In the past, it has been communities that are largely poor and composed primarily of people of color that have had emergency financial managers imposed on them. But now, with communities of all types feeling the financial hardships that were caused not by mismanagement but a nationwide economic crisis, everyone is at risk.
With Wall Street's largely unregulated manipulations leading to the collapse of the housing market, local budgets dependent on property taxes have been decimated by the tsunami of foreclosures that has been under way for years. That, coupled with cuts in revenue sharing from the state, has even once well-to-do communities facing the risk of takeover.
Which has brought us to a point where some fundamental questions need to be answered.
Are we going to stand by and watch the essential principles of our democracy eviscerated in order to, as Bowens says, protect a credit score? Or are we going to rise up and give Snyder a much-needed lesson in how democracy really works?