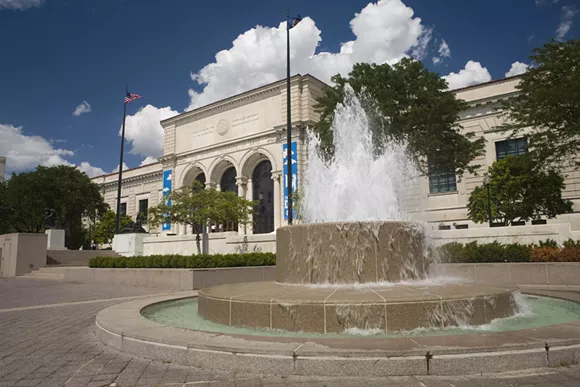 Last week the Detroit Institute of Arts officially purchased "Bird" a sculpture by African American artist David Hammons. Unlike typical acquisitions, the investment signified the start of a three-year, multimillion dollar plan to boost the number of African American artists represented within the museum, according to the Detroit Free Press.
The initiative signifies a shift in the direction of the DIA. It also highlights the recent change in leadership; Salvador Salort-Pons, the successor to former museum director Graham Beal, took the reigns last fall.
"We want to be the best," Salort-Pons, told
Freep
, noting that he wants to expand the DIA's offerings to appeal to more diverse crowds from all over metro Detroit.
While the DIA does currently house a 600-piece African-American collection — one that is commended by art scholars often — the museum has not made strides in recent years to continue growing this collection. More notably, this stagnation has been called out by others who think that 2016 is a little late to recognize black contemporary art.
"The museum has failed to capitalize on what it has," George N'Namdi, the founder of the N'Namdi Center for Contemporary Art in Detroit, told
Freep. "
This was one of the major collecting spots in the country for African-American art. The museum should be a leader in this area for the population that's here, and because it could really distinguish itself in this area."
While N'Namdi may be frustrated with the lack of initiative from the DIA, Salot-Pons feels confident in the acquisition of "Bird" — whose name flicks at black jazz musician Charlie Parker and white basketball player Larry Bird.
"This piece has so many different levels," Salort-Pons said. "It's about the African-American community and the opportunities that people have had in society. The African-American community has historically been given opportunities in sports and music and has been very successful in those two avenues. However, they haven't always been given all of the opportunities in society and are still in a cage."
Still, as
Freep
pointed out, since the DIA is a little late on the popularity of black contemporary art, the museum likely cannot afford some of the most coveted black artists such as the Harlem Renaissance figure Aaron Douglas or Kerry James Marshall, who pieces go for over a million dollars these days. That said, whoever the museum scores will be in the good company of already acquired works by the likes of Benny Andrews, Sam Gilliam and Robert S. Duncanson and several others.
The new collection will give the DIA a new reputation as being open minded to all different ethnicities around the world and most importantly in metro Detroit.