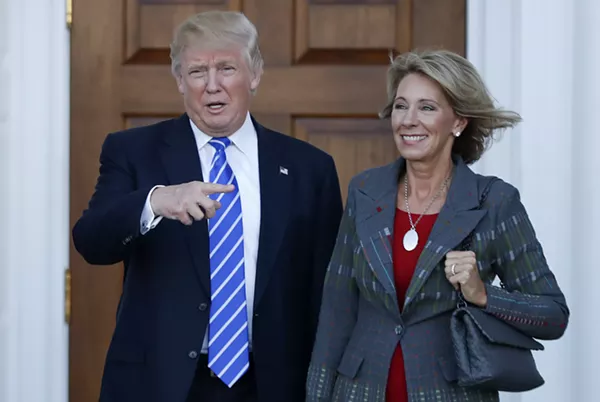 "What is she, Brock Turner's godmother?"
The internet backlash to
yet another asinine plan
involving Betsy DeVos' Department of Education has been harsh and swift. If you haven't yet heard — a draft proposal being circulated in the agency would give greater rights to students accused of sexual assault and require colleges to investigate only the most extreme cases.
The proposal reportedly narrows the definition of sexual harassment to "unwelcome conduct on the basis of sex that is so severe, pervasive and objectively offensive that it denies a person access to the school's education program or activity." The Department of Education during the Obama administration defined sexual harassment as "unwelcome conduct of a sexual nature," including sexual advances, requests for sexual favors, and other verbal, nonverbal and physical conduct.
"Is ruining lives your version of a back-to-school welcome?" Morgan McCaul, a Larry Nassar survivor, tweeted in response to the news first reported last night by the
New York Times
.
Others, who support the draft plan, made it about the right to due to process.
Check out the reactions below:
When women fail women, the cycle of shoving victims into the shadows of silence will continue. She is a menace & mocks the very word education with every idiot policy/comment she has implemented #VoteThemOut due process is already protected under the 5th & 14 Amendment clauses

— Wendi 웬디 💜 (@1dwendid1) August 29, 2018
Some one tell Betsy Devos a woman;s place in the world is to check and counteract man's misdeeds towards women not throw in with them.

— Val Burroughs (@ValValma000) August 30, 2018
Someone buy this lady a drink. Preferably at a frat party.

— Captain Fast Times (@KloxMax) August 29, 2018
Good morning to everyone except Betsy DeVos.

— madeleine (@MadeleineKH12) August 30, 2018
@BetsyDeVosED couldn't be worse if she tries. What is she? Brock Turner's godmother?

— Sonia Tolbert (@the_sonia_irene) August 29, 2018
Oh my God, oh my God, oh my God!! You mean that it won't be admissible to simply accuse someone of sexual misconduct and have them thrown off campus? Seems fascist to me.

— Dunkingbunnies (@dunkingbunnies) August 30, 2018
You mean the injustice of due process? Oh the horror!

— Mikeymike (@Mikeymi94813343) August 29, 2018
DeVos last year suggested the department was mulling new rules guiding how campuses handle sex assaults when she rescinded Obama-era guidance to colleges. The Obama guidance had instructed colleges to use the "preponderance of the evidence" standard to decide whether a person has committed sexual assault.
Survivors and their advocates saw the move as a step forward, but others said it could lead innocent students to be punished on flimsy evidence.
Stay on top of Detroit news and views. Sign up for our weekly issue newsletter delivered each Wednesday.