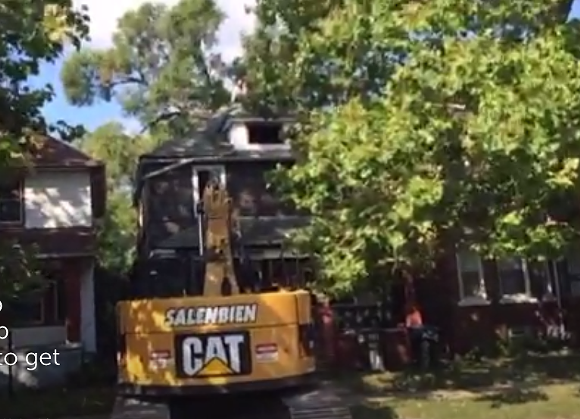 UPDATE 11:42 A.M.: The man has agreed to come down from the roof and has been placed under arrest.

There's a protester sitting on the roof of a home that looks to be the target of a demolition and here's what we know about it:
A house sitting in zone 8 on 16th and Ferry St. was planned to be demolished by the land bank today, but a courageous neighbor decided to take a stand and stop it.
The neighbor has climbed to the top of the house to protest the demolition of this house claiming that it could be sold and does not need to be destroyed. Other neighbors living on 16th and Ferry support this mans actions and want the house to stay standing.
The Motor City Muckraker has a
live periscope streaming
with updates about the protestor, and so far there is a crowd of policemen gawking at the sitting man.
The police already stated that the man would be arrested once the fire department arrives with a latter to bring him down. The narrator of the Periscope also stated twice that the police said they would refuse action if they receive a robbery call because this one-man protestor (who is calmly sitting on the roof) is occupying their time.
The stream left off with the police shoving publicity away for their own "safety," to keep the protestor out of sight, but he won't be out of mind.
For updates, watch the Motor City Muckracker's stream.