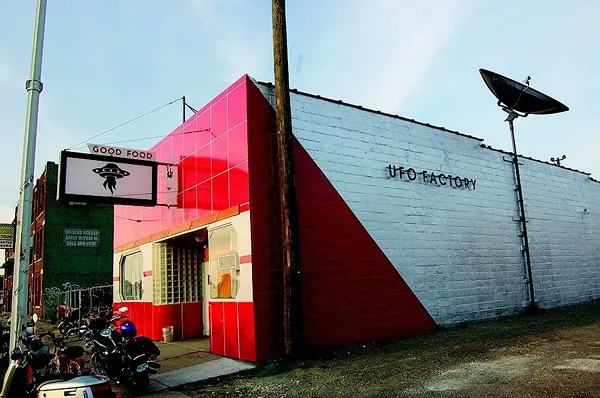 Updated Tuesday, Oct. 23, 2018:
The UFO Factory says it
did not accept the money
on the advice of legal counsel, says it "did not seem appropriate at the time."
Originally posted Monday, Aug. 7, 2017:
The developer that caused Corktown's UFO Factory
to shut down due to construction damage
says it will donate the entire fundraising goal to an
employee relief fund
.
A construction crew damaged the UFO Factory on Wednesday while working on developer Soave Enterprise's
$150 million mixed-use Elton Park development
. The construction company damaged the bar and performance venue's north wall, causing the building to be declared condemned by the city — and putting about 15 employees immediately out of work.
"As we work to develop a solution to the accidental damage to the UFO Factory, we are pleased to show our support for the UFO Factory and its employees by donating $15,000 to the Go Fund Me campaign," reads a statement from Peter Van Dyke of Van Dyke • Horn, the public relations firm for Elton Park. "Our intention in developing Elton Park is to help bolster the Corktown community, and we hope this donation reflects that goal. We are committed to getting the UFO Factory and Elton Park back on track for Corktown and Detroit."
As of Monday, the relief fund had raised more than $19,000, surpassing its initial $15,000 goal. Additionally, a benefit is planned
Monday at El Club
, with all of the evening's bar and pizza sales going to the UFO Factory.
Recent disputes between Soave and UFO Factory management — as well as previous allegations that Soave had destroyed another company's property for its own gain — have caused some
to question whether the damage was an accident or intentional
.
According to Van Dyke, engineers are still assessing whether the building can be repaired, and both parties have filed claims with their respective insurance carriers.