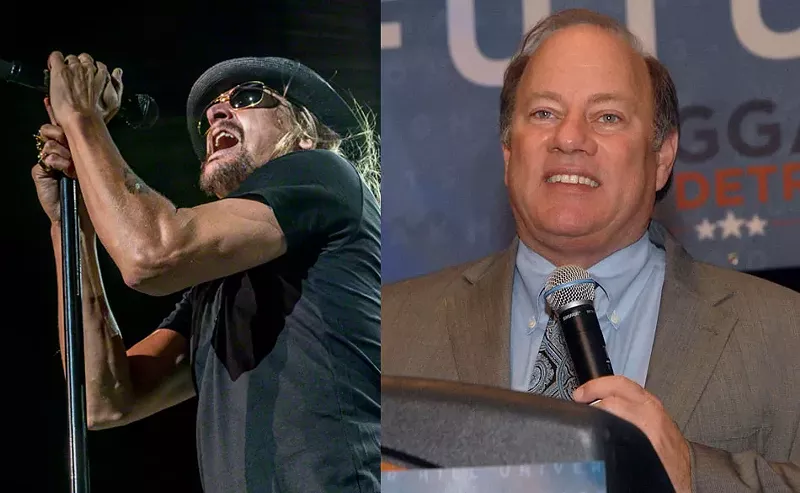 The many-layered controversy surrounding Kid Rock's performance at the new taxpayer-financed pizza palace just got a little thicker thanks to Detroit Mayor Mike Duggan.
Duggan kicked off the week shouting proudly about the economic impact of the pizzarena during an
over-the-top ribbon-cutting
at the site on Tuesday. On Wednesday, after unveiling an effort to stop illegal dumping in parts of the city still being treated like a trash heap, Duggan seemed to dismiss the controversy over the inaugural role that Colin Kaepernick-hating, formerly
Confederate flag-waving Kid Rock
will play at the Little Caesars Arena.
"He's an entertainer," Duggan said in response to a question about the issue from WXYZ's Kimberly Craig. "My feeling is, if you don't like Kid Rock's politics or music — don't go to the concert."
The thing is, it's not just a concert. Kid Rock will headline six concerts, and he'll have a permanent presence at the pizzarena with
a restaurant
as well.
Facebook commenters speaking on the issue below a post by gadfly and former Detroit police officer John Bennett were quick to condemn Duggan's statement, calling it tone-deaf and unhelpful for his re-election effort. Duggan will face off with Coleman Young II, the son of Detroit's first black mayor, in the November election. Young has sought to portray Duggan, a white man from Livonia, as out of touch with the struggles of average residents in the majority-minority city.
"Hope all of Detroit heard that because the majority of Detroit proper probably don't agree with Rock's politics and the Confederate flag that he loves," said a Detroit-born man who now resides in Sterling Heights. "Maybe those that don't like Rock politics shouldn't vote for someone that doesn't care [if] they don't."
Meanwhile, the leader of the civil rights group that has planned a
protest over Kid Rock's performances
and called for their cancellation decried the mayor's comment in an interview Friday.
"I feel like it's a slap in the face," National Action Network Michigan president Rev. Charles Williams II told
Metro Times
. "I mean you're talking about 80 percent African Americans in this city who are being disrespected by what Kid Rock represents.
"That statement shows [Duggan is] very disconnected to what 'black lives matter' means, what Colin Kaepernick is doing, and what the Confederate flag means to African Americans."
Duggan made the comment in a reporter scrum following a news conference on the new illegal dumping effort. On Friday, we asked the mayor's office whether Duggan stands by his statement in light of resident concerns. We are awaiting a response.