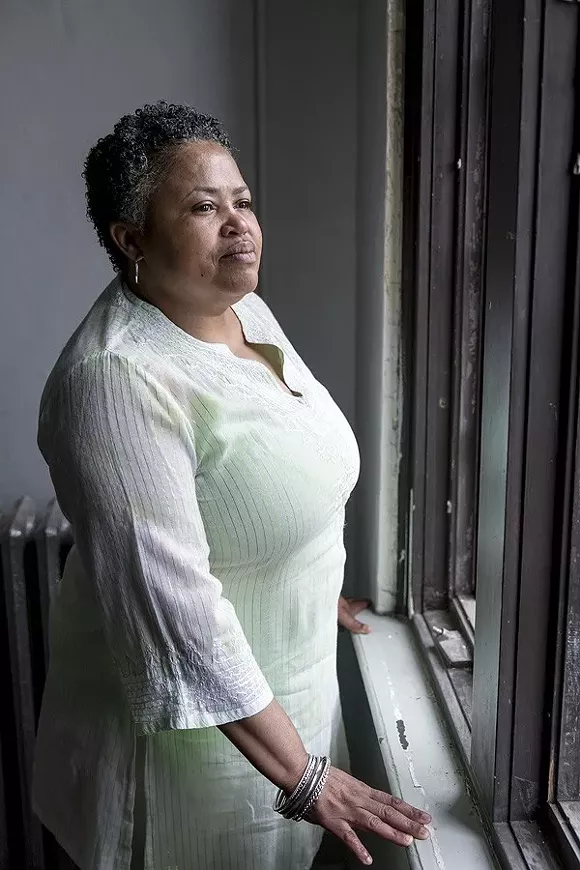 Today, something called the KIND Foundation, "through its KIND People Program, awarded a total of $1.1 million "to catalyze empathy and heal divides." Six activist/healers have been awarded $100,000 and one (Doniece Sandoval) was given $500,000. These are straight-up gifts, as opposed to grants; recipients can do whatever they wish with the funds. Among the recipients? Our very own community activist
Monica Lewis-Patrick, who we profiled in our "People" issue last year
.
An excerpt from the profile in
Metro Times
:
Today, she fights for the rights of Detroiters to have access to water, even if they cannot afford to pay their bills. With the organization We the People of Detroit, she's firing on all cylinders. Among other things, We the People manages a water rights hotline so people can get emergency assistance, and oversees four water stations that will even deliver water directly to those in need if they cannot make it to a station.

"I spoke in front of the U.N. in September, another tremendous honor," she says. And are there more political plans in her future? "I really like being a free black woman if there's such a thing in America, without someone else's time clock or agenda," Lewis-Patrick says.
This award is funded by the people who make those fruit-and-nut-snack junk food alternatives,
the ones in the rainbow wrappers
.
Their praise for Monica Lewis-Patrick's work is well-deserved:
Monica Lewis-Patrick's sense of justice and belief in her own ability to enact change has united a community in the fight for water rights. It all started after she learned that the City of Detroit had cut off the water of an apartment building occupied by mothers and senior citizens. She co-founded We the People of Detroit, a grassroots organization that gives low-income families access to clean water; provides education on water issues; conducts research to raise awareness; and mobilizes people to take action
.
The other recipients of the $100,000 prize are Jo Dee Davis, who works for prison reform in Ohio; the Chicago-based Lam Ho, who works to provide legal services to those who cannot afford it; Sandra Goldberg, a breast cancer survivor in Chicago who works to provide care to those in underserved and uninsured communities; 75-year-old Phyllis Shaughnessy, nicknamed "the lunch lady," who helped to deliver an estimated 20,000 food packages this year to families in rural Washington state; and "joyologist" Jodi Rae Ingstad, who works to serve North Dakota's most vulnerable population. Doniece Sandoval will receive a $500,000 prize. Her California-based organization, Lava Mae, turned retired transportation buses into showers and toilets on wheels for the local homeless populations there.