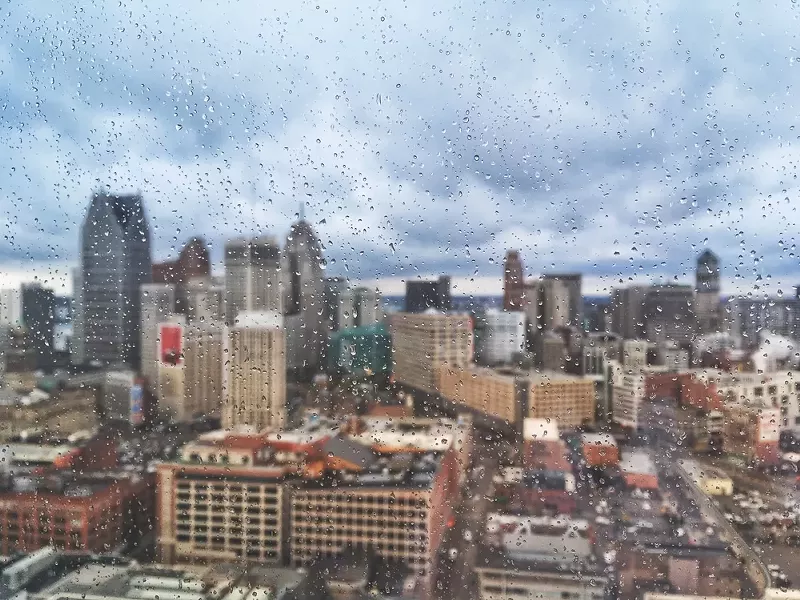 As
a story published today by Michigan Radio
tells it, last month, Detroit's water and sewerage department completed an
overhaul of the city's drainage rates
, which will now be calculated on how much "impervious surface" your property has. When rain falls on your property, it runs off of impervious surfaces and flows right into the sewer, where it mixes with waste, all of which has to be treated. So unless you have a green roof and a garden outside, you're on the hook for some of the money that goes to that treatment.
So goes the logic.
But several researchers suspect that the overhaul basically looked at the costs the utility faced, distributed it among its ratepayers, and characterized the shared cost as a drainage fee.
When you do that, they say, it isn't a fee — it's a tax.
The Michigan Radio piece
has some great quotes from Wayne State University's Peter Hammer and Russ Bellant, supporting the opinion that's helping drive
a lawsuit against the so-called "rain tax"
to the Michigan Court of Appeals.
After all, if the fee is just designed to keep the utility in the black, it's a tax, and therefore illegal under the terms of the Headlee Amendment.
Now, here's where things take a weird turn.
The Headlee Amendment is what many officials in Michigan, including in Detroit, say prohibits them from instituting a water affordability plan in Detroit.
No matter what the city's lawyers and policy wonks say
, many Detroit politicians have maintained that charging different rates for low-income households would amount to a tax on those better able to pay their water bills. And though they'd love to help, their hands are tied by the law. Get it?
Now here come Detroit's water warriors advancing on Detroit Water and Sewerage under the banner of the Headlee Amendment itself? Will their argument that the city soaks its ratepayers so it can keep its own head above water prevail? Is the Headlee Amendment the "impervious surface" that some officials have claimed it is?
Or might this finally resolve
the misunderstanding that has left so many city officials sitting on their hands
while many lost their homes to unrealistically priced water rates? Stay tuned, kids.
Stay on top of Detroit news and views. Sign up for our weekly issue newsletter delivered each Wednesday.