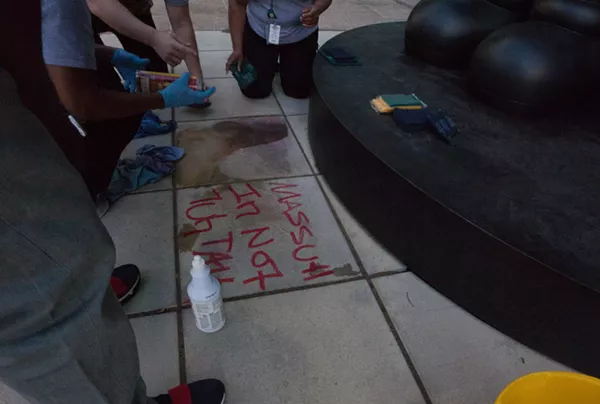 It's been just a week since Dan Gilbert and his wife gifted Detroit with a
unique statue
, and already, vandals have targeted it with graffiti.
A statement was found scrawled on the ground in front of the 17-foot tall
"Waiting"
this morning, but it was quickly rendered undecipherable thanks to swift cleanup by a group of
lanyards
who reportedly work for
Gilbert's Bedrock
. By the time a
Metro Times
tipster got on scene, it appeared that just five words remained. One of them looks like it may have been
"massuh."

Gilbert is no stranger to the defacement of his investments. Last year,
the QLine was bombed
with a massive ACAB (All Cops Are Bastards) while still in its testing phase. In 2014, a group of teenaged girls
scrawled
the words "Welcome to Detroit," "izzy," "fuck," and "bitch" on his 1001 Woodward building.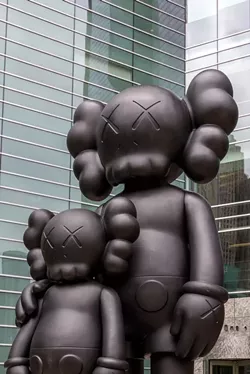 It's not yet clear whether Gilbert or his team will try to hunt down whoever wrote the message, but if history is any indication — they probably will. When the three teens tagged the side of Gilbert's building a few years ago, he shared their images with his employees and asked for help catching them.
"Unfortunately, once in a great while, degenerates who don't 'get it' crawl out of their deep dark holes and try to ruin it for the rest of us who take pride in and deeply care about our city," Gilbert wrote in a
letter
. He then attempted to entice the would-be snitch with a fresh home paint job.
The teens, from Grosse Pointe Woods, were eventually caught and prosecuted. They were made to do community service and pay restitution.
Gilbert has not, to our knowledge, yet gone to such lengths to identify the person behind this latest act of vandalism. An email to a Bedrock spokeswoman was not immediately returned.
As of 2 p.m. Friday, Detroit police spokeswoman Holly Lowe said the incident did not appear to have been referred to the department. She said DPD had received no malicious destruction of property complaints since at least midnight.
If Gilbert and company do push for a criminal investigation, the cops will likely have plenty of
security camera footage
to rely on.
Stay on top of Detroit news and views. Sign up for our weekly issue newsletter delivered each Wednesday.