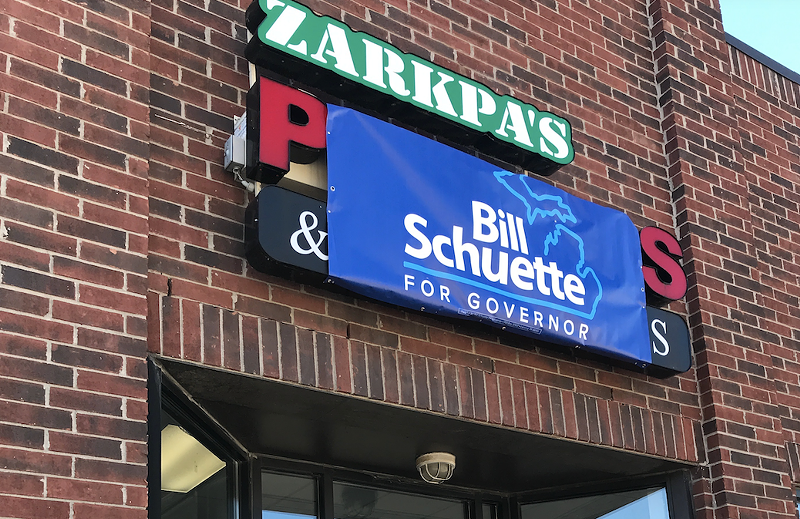 The door is locked — gated, in fact. Chairs are empty. Cookies have been left uneaten. Poorly drawn poster boards festoon the otherwise barren walls. A message of hope is draped over a shuttered storefront. Next door is an overgrown, barricaded children's playscape.

A stroll past Republican candidate for governor Bill Schuette's Detroit campaign office just a week before the midterm election feels more like a horror film scene than bustling headquarters. In fact, it's downright spooky.

Located in Detroit's North End neighborhood at 9033 Woodward Ave., the neglected office for the Schuette campaign (or "Shoe-Tee" as a sign in the headquarters' window informs) has been far from a torrent of political activity. It came to our attention thanks to political advocate Graham Davis, who has been using Twitter to unveil perhaps one of the most intriguing subplots of the Michigan gubernatorial race yet.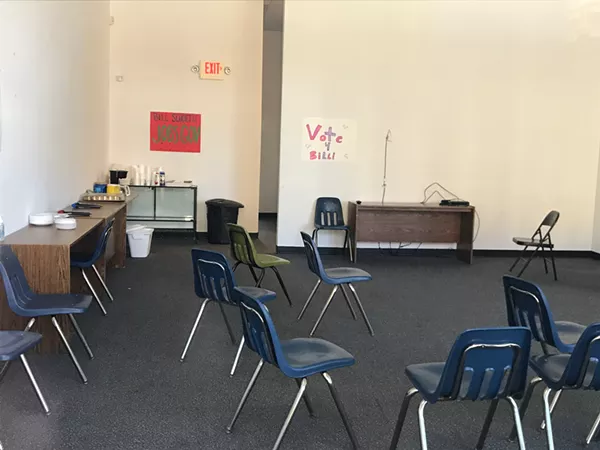 Davis first pointed out the curiously dormant and inaccessible headquarters in a Tweet last Wednesday, which has since spurred several followup videos. Each one is absent of a single volunteer.

"Totally empty yet again," Davis says on his Saturday visit. "A perfect day for volunteering. But no one is here."
Second to last Saturday before the election, and a rainy day in Detroit. You'd expect the @SchuetteOnDuty Detroit "headquarters" to be full of volunteers making calls! Shocker: doesn't seem to be the case. Yet again. #migov pic.twitter.com/v5tQgESHAS

— 𝙂𝙧𝙖𝙝𝙖𝙢 𝘿𝙖𝙫𝙞𝙨 (@grahamdavis) October 27, 2018
On Sunday, Davis notes a busy morning surrounding the office due to the number of churches along Woodward — what would otherwise be a great opportunity for a trailing-in-the-polls campaign to reach out to try to convert some of the 97 percent of Detroiters
who voted against Schuette's #MAGA bestie, Trump
in the 2016 election.
"Like usual, the door is barred shut," Davis says. "The security gate really adds to the ambiance and invites people in."
Happy Sunday from the @SchuetteOnDuty Detroit "HQ." Second to last Sunday before the election at an office by a lot of busy churches... and it's empty. Personal volunteer info still visible in the front window, too. (Yet again). No one has been here for days. #migov pic.twitter.com/gjQm05sxUX

— 𝙂𝙧𝙖𝙝𝙖𝙢 𝘿𝙖𝙫𝙞𝙨 (@grahamdavis) October 28, 2018
"They launched this office and said to stop by anytime to take a lawn sign, but I'm not entirely sure how to do that since they don't seem to staff it," Davis says. "Nothing has moved inside. Everything is exactly the same."
It's another day at @SchuetteOnDuty's abandoned Detroit "headquarters." No one has been in this office for days. And they've still left their own supporters' personal info visible in the front window this whole time! What a beehive of activity. #migov pic.twitter.com/5nZGNUBwtz

— 𝙂𝙧𝙖𝙝𝙖𝙢 𝘿𝙖𝙫𝙞𝙨 (@grahamdavis) October 29, 2018
Davis notes that Schuette's campaign has left a very visible sign-in sheet with personal volunteer information on the ledge beside the front door for all to see. And by all, we mean just Davis. Because it seems literally no one wants a lawn sign.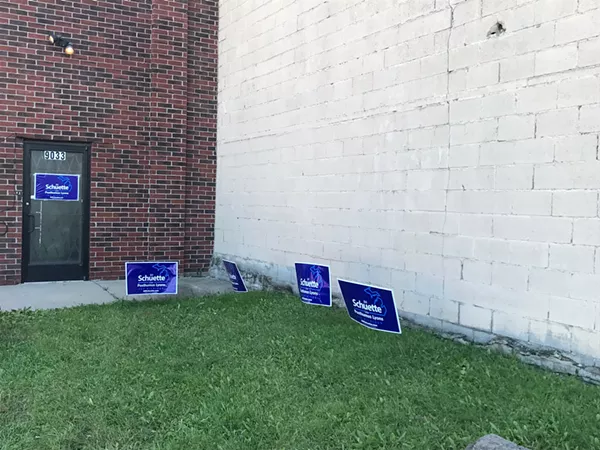 The headquarters location might be the biggest clue as to why Schuette's crew has abandoned ship. The office shares a wall with the IPH Family Planning Center, which offers a myriad of services ranging from STD testing, women's reproductive and gynecological care, and preventative screening resources — all services the pro-life
Schuette has fought tirelessly to defund
in his ongoing battle with Planned Parenthood.
"I'll keep coming back every single day until someone's here," Davis says. "We'll see if it will be November 7th."
Stay on top of Detroit news and views. Sign up for our weekly issue
newsletter
delivered each Wednesday.