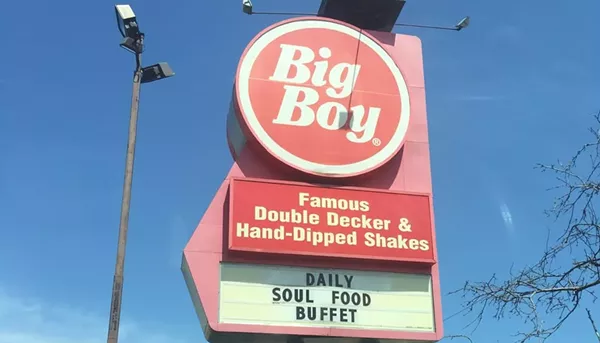 A new development is planned for the site of the shuttered Big Boy restaurant on East Jefferson across from Belle Isle in Detroit.
The Platform, the development company that also owns the Fisher Building in New Center, purchased the already-shuttered restaurant earlier this year and announced they would raze the restaurant to make way for a new project.
Today, the company announced via press release that the development will consist of a mixed-use building that could be up to 10 stories tall. The development will include on-site parking, ground floor retail, and residential units. The Platform has promised 20 percent of the building's proposed 240 units will fall under affordable housing.
The residential portion of the development will include studio, one-bedroom, and two-bedroom apartments, according to the press release.
The $50 million project will not break ground until around this time next year, with a projected completion in mid-2020.
"This intersection at Jefferson and [East Grand] Boulevard serves as both a symbolic and literal entrance to Belle Isle and downtown," Peter Cummings, executive chairman of The Platform, said in a press release. "Our development will honor this location's prominence along Jefferson and within Detroit."
The Platform selected Los Angeles-based architectural firm wHY along with Detroit-based Hamilton Anderson to design the project. The structure will be "a beautiful, cutting-edge building that honors the site's prominent location, as well as the ability to implement innovative construction strategies," according to the release.
Dietrich Knoer, president and CEO of The Platform, said it's been some time since Detroiters saw a neighborhood project of this magnitude, and he and the team The Platform built plan to "do right by our neighbors in Islandview."