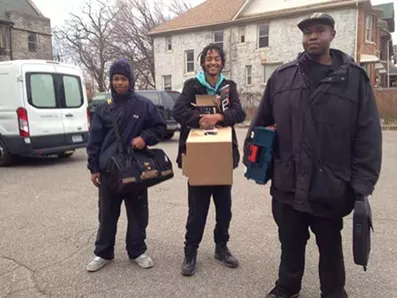 On a visit earlier this year to a home in Islandview, an East Side neighborhood that's among Detroit's poorest, Dwight Roston, equipped with his cables and other gear, found a woman who had bought a brand new computer months earlier but never taken it out of the box. Also home were her college-age daughter and three young boys. The family had never had internet access before; after a couple hours Roston was able to successfully hook up the home. Before he had even walked out the door everyone was happily online: The daughter was on her laptop doing homework, the younger kids were using an older computer to play games, and the mom — with the help of Roston and her kids — was successfully using her new desktop for the first time.
"The thing about Islandview is that people here are used to not having what we need," says Roston. "I know people who have to take the bus in the cold or the snow or the rain to make it to a library." So when someone is finally able to just log in from home, Roston adds, "it's a relief. You don't have to work so hard."
Roston, now 23, grew up in the same neighborhood, in a home that never had internet. At King High School, he says, online opportunities were also rare. Initially inspired to dive into technology by his musical ambition, he began using the equipment — and teaching himself video and music production — at the Church of Messiah's BLVD Harambee Empowerment Center, which includes a popular computer program. "In this particular area," says Wally Gilbert, the program's director, "no, they really don't have anywhere else to do that."
Roston is now a digital steward with the Equitable Internet Initiative, responsible for installing wireless connections for Detroit residents. Since last summer, the EII, part of the Detroit Community Technology Project and done in collaboration with various Detroit nonprofits — the project also uses infrastructure from Rocket Fiber — functions as a grassroots internet service provider: Working in underserved Detroit neighborhoods in the North End, Islandview, and Southwest, project workers actually install their own infrastructure, hooking up antennas to neighborhood buildings and then connecting selected homes for inclusion in the network.
Recipients use their new connectivity in different ways — some are primarily interested in research or entertainment, others are using the web to grow their own small businesses — but the need for connectivity is widely recognized, says Monique Tate, a digital steward who works in the North End. "Everyone realizes it at a practical level," she says. "People get it, and they understand that there's potential."
And organizers also emphasize the need for real speeds. "Our Equitable Internet Initiative can't stop at, 'Everyone needs an internet connection,'" Nucera told Motherboard. "Everyone needs to have a high-speed connection, or else we're going to create a digital class system."
Yet the program's scale is relatively small: In each of the three neighborhoods it serves, the aim is to connect some 50 homes, which are selected based on internet requirements, financial need, and proximity to EII's antennas' range. Other community programs, like BLVD Harambee, can help fill in the gaps, but for many Detroiters the digital landscape remains bleak. The stakes will only get higher: Research shows that the digital transformation, while benefiting so many Americans, is also contributing to more inequality, with low-income people — and even lower-tech metro areas — at a greater risk of being left behind. Getting hooked up is only the beginning: Even once someone gains a connection, the process of fully realizing its potential — learning to incorporate the internet as a regular part of daily communication, work, and entertainment in the way millions already do — can take years.
"An essential part of this is digital literacy," says Tate. "Connection is the key, and it's the essential, like blood in the body. However, what's the purpose of the blood in the body? To be able to make everything else function."