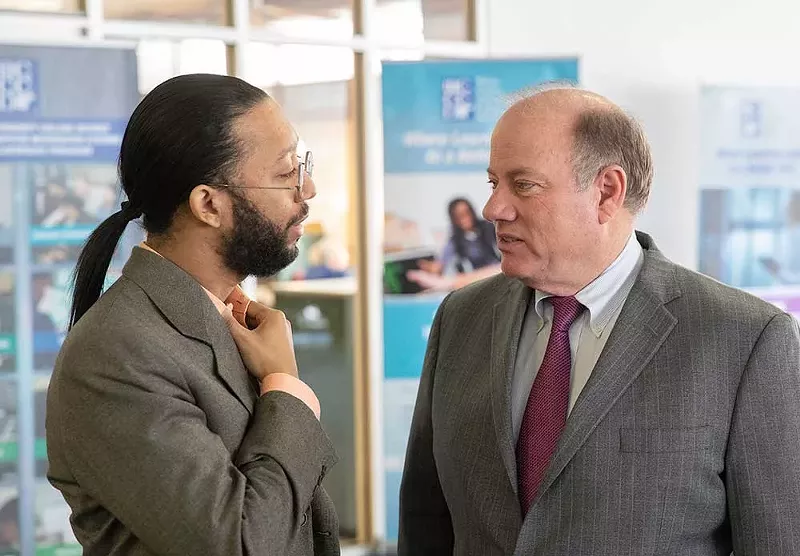 Back in 2017, the City of Detroit made headlines for creating a new government position it called "Chief Storyteller," with other cities like Atlanta and Denver following its lead. But in a LinkedIn post published on Monday, Detroit's Chief Storyteller Eric Thomas announced he has resigned, and the future of the position is now unclear.
"Friday was my last day as Chief Storyteller," he wrote. "It's bittersweet. For three years and three months, I had the coolest job in any city government."
He added, "The love I received in this job was overwhelming, the trust almost unwavering, and I can't thank Detroiters enough for giving me a chance. On [to] the next chapter."
Reached by phone, Thomas says he felt like it was just time to move on. The Chief Storyteller role was the first job he had in 11 years, he says. A graphic designer by trade who had worked in marketing, Thomas says he was self-employed before he took the position.
"I'm just the kind of person that when I'm done, I'm done," he tells Metro Times.
Before he became Chief Storyteller, Thomas drew attention after publishing a widely shared May 2016 post on LinkedIn with the headline "Why I hate Detroit," citing the many problems that the city faces. In 2017, he also gave a talk at TEDxDetroit called "How Storytelling Can Give a Community Back its Voice."
Thomas says that it was his friend, the late entrepreneur Marlowe Stoudamire, who convinced him to take the job. "Marlowe was like, 'Hey, man. You're a storyteller. You're in Detroit. Detroit's most of your identity. You gotta do it.'"
Thomas started in January 2020, and Stoudamire died in March of that year after being diagnosed with COVID-19, one of the first high-profile deaths to come as the pandemic hit Detroit. Thomas says he soon found his new job pivoting to COVID-19 messaging and awareness, including helping to arrange an "Everybody vs. COVID" livestream concert.
While the city launched a website in 2017 called TheNeighborhoods.org to present content created by its Chief Storyteller, it had been updated only sporadically in recent years. Thomas says they had made the decision to pivot from publishing journalism-style articles on TheNeighborhoods.org to posting directly on an Instagram account called @storiesfromdet because the content got better reach that way. "Doing 50,000 impressions a month on Instagram was a lot better than getting, you know, 11,000 on a website somewhere," he says.
The "Chief Storyteller" role and TheNeighborhoods.org website were created during Mayor Mike Duggan's 2017 re-election campaign, at a time when his administration was accused of ignoring the deterioration of the city's neighborhoods in favor of big downtown development projects. For the city's first Chief Storyteller, Duggan hired journalist Aaron Foley, a move that raised eyebrows among some in the local media. At the time, Foley told Metro Times that TheNeighborhoods.org would be "a platform for Detroit residents to interact with each other across districts and share what's going on in their neighborhoods, all with the goal of showing the various ways in which the city is making progress."
After Metro Times published a mildly critical story about the funding for TheNeighborhoods.org, Foley then used the platform to publish an article that appeared to attempt to discredit Metro Times by noting the racial makeup of its staff and misleadingly describing an advertisement campaign on metrotimes.com as an example of its reporting.
Foley left the Chief Storyteller role in 2019 to take a journalism fellowship at Stanford University.
As to whether Detroit's Chief Storyteller role will continue, Thomas says he doesn't know.
"I'm not sure how they're gonna position all that stuff moving forward," he says.
Duggan spokesman John Roach confirmed Thomas left the role.
"Eric's departure was completely his choice and his timing, as he decided to pursue his own passions," Roach says. "He's been an important part of our team. He will be missed and we all wish him great success."
Roach was also fuzzy when asked if the Storyteller role will continue.
"I'm not aware of any changes planned with TheNeighborhoods.org, but I'll let you know if I hear any differently," he said.
Going forward, Thomas says he's working on a new project that he plans to launch in the coming months, but declined to share any details yet.
"I'll be outside," he says. "I live in Detroit, I stay in Detroit. I'm here. I will continue to talk about things in the city, I will continue to connect with people."
Coming soon: Metro Times Daily newsletter. We'll send you a handful of interesting Detroit stories every morning. Subscribe now to not miss a thing.

Follow us: Google News | NewsBreak | Reddit | Instagram | Facebook | Twitter