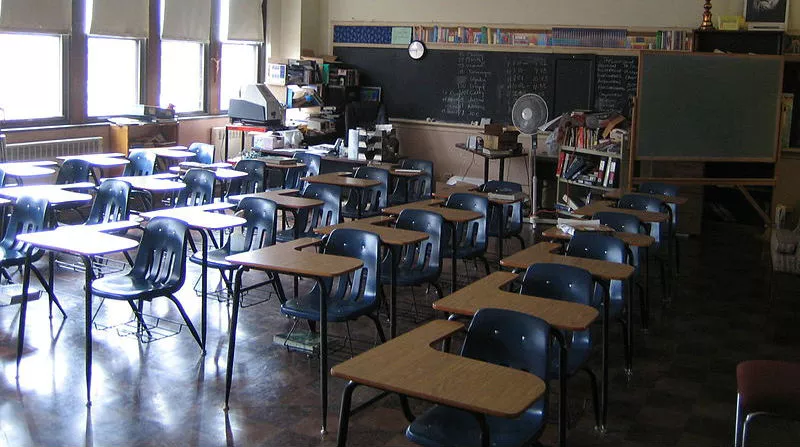 Being a teacher is a tough job. Between interfering parents, state-mandated benchmarks, and smelly pre-adolescents that haven't learned to put down the Axe body spray yet, education can be a stressful career path.
And in Detroit, it's even harder.
Pepper in a lack of funds, a shortage of counseling resources, and a body of students who have slipped through the cracks of the education system, and you find a school district in desperate need of bodies. Summertime is peak hiring season for the upcoming school year, which is why Detroit school districts are pursuing a controversial new strategy to fulfill staffing needs.
On Tuesday, Detroit Public Schools board of education approved a plan proposed by Superintendent Nikolai Vitti to hire certified teachers without prior classroom experience. As reported by
Chalkbeat,
the new hiring plan will include a wide-ranging search to recruit candidates who come from other school districts and historically black colleges, as well as candidates who have received certification from alternative programs such as
Teachers for Tomorrow
.
Although programs like Teachers for Tomorrow guarantee candidates that meet state mandates for certification, the for-profit online program raises concerns about the quality of instruction. As part of its admission policy, Teachers of Tomorrow only requires a Bachelor's Degree in any field with a minimum 2.95 GPA. To become certified, the program condenses the standard 3 years of post-secondary coursework into a streamlined 200-hour online curriculum.
Unsurprisingly, the news sparked debate among parents, school board members, and the public, who questioned whether sending inexperienced teachers to Detroit public schools is really in the best interest of the students themselves.
One commenter on
Chalkbeat Detroit's Facebook
page made their concerns known:
"In any other situation, if you couldn't find enough qualified candidates, you'd offer more pay or better working conditions.;In education, we just lower our standards."
Programs like Teachers for Tomorrow isn't the only tactic that Vitti hopes to employ, however. With promises of increased salaries for veteran teachers, Detroit Public Schools hopes to lure experienced teachers to the district with higher pay. Meanwhile, other programs like Michigan State's Urban Teaching Fellows Program supplies a handful of newly certified teachers who have received classroom experience leading classrooms through Detroit's summer school programs.
The bottom line, however, is that perhaps even teachers with less experience are better than no teachers at all. As part of his platform, Vitti has promised to fill the staffing gap that has hung ominously over the heads of the city's educators.
In a prepared statement to Chalkboard, Vitti made it clear that seeking out educator's through alternative certification programs was an issue of supply and demand:
"We prefer to hire teachers who have participated in traditional certification programs.However, in the short term, we need certified teachers to fill vacancies and to reduce class size so we will consider hiring teachers from alternative programs. They are certified."



In the past, Detroit Public Schools have also utilized Teach for America as a means for channeling newly graduated young professionals to help fulfill staffing needs —to mixed results. Whether programs like Teachers for Tomorrow will yield better outcomes remains to be seen.
Stay on top of Detroit news and views. Sign up for our weekly issue newsletter delivered each Wednesday.