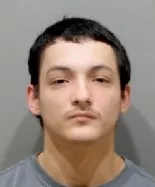 A 20-year-old Detroit man has been charged with animal cruelty for allegedly burying a dog alive.
Jacob Xavier Kasper faces up to seven years in prison on a felony count of second-degree killing/torturing of an animal and abandoning/cruelty of an animal.
The Wayne County Prosecutor's Office alleges Kasper buried the dog alive on the 1700 block of Evans Street in Southwest Detroit. Detroit animal control officers were dispatched to the house on Sept. 30. They found the dog with extensive injuries, forcing them to euthanize it.
"Dogs are living and breathing beings," Wayne County Prosecutor Kym Worthy said in a news release Monday. "Dogs should be attended to even if they are sick and especially if they have been abused. No living being should ever be buried alive in lieu of proper medical or other standard care. This is not rocket science."
Kasper was originally charged on Nov. 10 but failed to show up to his arraignment. Detroit police tracked down Kasper on Friday and arrested him.
He was given a $5,000 personal bond.
His next court hearing is scheduled for Thursday.
Kasper is at least the second Detroiter to be charged with a felony count of animal cruelty in the past month.
Leonard Maurice Shaw
, 29, is accused of viciously beating a pit bull puppy and then dumping her in a garbage can outside his house because she had chewed his Cartier sunglasses.
Coming soon: Metro Times Daily newsletter. We'll send you a handful of interesting Detroit stories every morning. Subscribe now to not miss a thing.

Follow us: Google News | NewsBreak | Reddit | Instagram | Facebook | Twitter