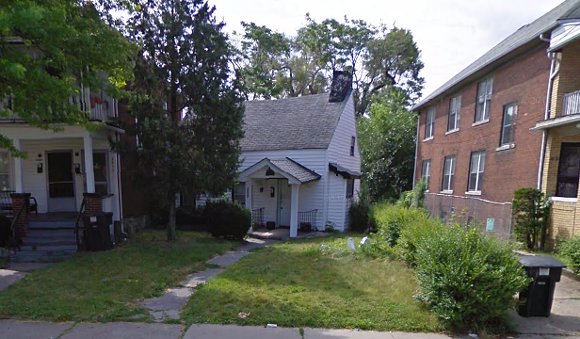 First things first: He hasn't gone by the name Detroitblogger John for a while now. John Carlisle used that moniker back when he was a regular contributor to
Metro Times
, writing about the out-of-the-way places and people in the city of Detroit. About five years ago, he won Journalist of the Year from the Detroit Chapter of the Society of Professional Journalists and has since gone by his birth name.
And yet, whenever we see one of his stories, we just know it's a Detroitblogger John story before we ever examine the byline. The latest is a classic example of the kind of deep dive Carlisle has become known for, usually with a long-lost pearl to show for his efforts. In this case, it's the
James Smith farmhouse
, an old log cabin that has stubbornly occupied a lot on the west side of Detroit since at least the 1850s.
It's one of those houses that the discerning eye can tell is an original, given the unusual chimney, the afterthought second-story window, and the way it's oriented north-south as opposed to the off-kilter angle of most Detroit streets. In Carlisle's able hands, with a few quotes from Amy Bragg and the Land Bank's Craig Fahle, it becomes an interesting read as well as a kind of plea for somebody to step in and save this bit of history.
Have a look
.