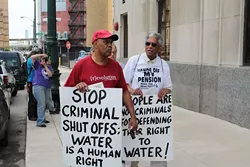 Two years after Detroit drew international attention for aggressively disconnecting water service to residents for nonpayment, officials have found hundreds, if not thousands, in the city continue to struggle to afford their water bill.
In early May, when the Detroit Water & Sewerage Department began its 2016 water shut-off efforts, about 20,000 residential and commercial accounts were at risk of shut-off because they either hadn't paid their bill or defaulted on a payment plan. The department has 200,000 customers, of which roughly 175,000 are residential.
About half of the 20,000 accounts with arrearages avoided a shut-off by making payment or joining an assistance program. It's unclear how many residential accounts DWSD disconnected for service due to nonpayment; a spokeswoman, Linda Clark, didn't provide Metro Times with figures when asked.
Clark said shut-offs occur for numerous reasons: "abandoned houses with water running, illegal hook-ups, and yes, sometimes disconnection for nonpayment." Clark added that 99 percent of customers who dealt with a water disconnection made payment arrangements for their bill and had water service reconnected within 24 hours.
Despite assistance programs touted mightily by officials, the water department's figures indicate the city is still grappling with a reality not unlike years past: Many residents — 40 percent in Detroit live below the poverty line — lack the means to pay their bill. The average arrears in Detroit is $663, according to the department.
Clark told MT that more than 30,000 customers have a payment plan arrangement. But a fact sheet provided by the department states that close to 12,000 customers — more than 30 percent — who were in a payment plan a month ago have defaulted. "DWSD's priority is to place these customers back into a plan," the document said.
The $4.5 million Water Residential Assistance Program (WRAP), which began March 1, is also running into issues in its infancy. The Detroit News reported Tuesday that roughly 1,270 households across Metro Detroit are enrolled in the program, and it already has a backlog of at least 2,500 customers looking to enroll.
The assistance program provides up to $1,000 toward a monthly bill credit for residents across the region with income qualifications of 150 percent of the federal poverty level who use Detroit's water system.
In the first months of the program, the News reported, the program enrolled 389 Detroit households — but only 28 percent made all payments. Gary Brown, DWSD's director, told the newspaper that nearly half missed one payment, while 12 percent missed two.
"A lot of them are having issues with just understanding the process," Brown said. "It's new for customers, it's new for staff and we're working out the kinks."
Brown told the News that individuals in the backlog had their arrearages frozen and aren't facing a shut-off.
Clark said Wayne Metropolitan Action agency, which is administering the program, is working with customers who fell behind on payments.
"We want customers to succeed in making payments and have not removed anyone from the WRAP," she said.
If a customer in WRAP defaults twice, their next option would be the city's 10-30-50 payment plan, which Mayor Mike Duggan introduced in the fall of 2014.
That payment plan, as MT previously reported, stretches arrearages out over two years, as long as a resident pays 10 percent of their past due balance upfront. If a payment is then missed, they'd have to pay 30 percent of their balance, then continue paying off their arrearage, in addition to their average $65 monthly water bill. Another missed payment? They'd have to pay 50 percent of the balance.
If a resident misses a payment again, they're no longer eligible for the plan.
So — for the residents who lose eligibility for WRAP and the 10-30-50 plan — then what? When asked, Clark didn't respond.