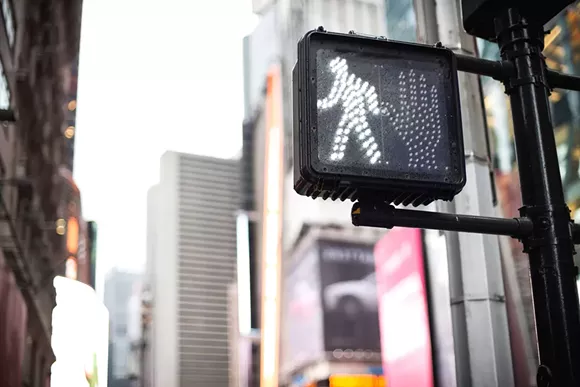 There were 104 metropolitan areas studied by the Smart Growth America and the organization ranked areas based on their PDI. SGA found the numbers for the Detroit-Warren-Dearborn metro area makes it the seventeenth in the most dangerous areas for pedestrians.
The full list can be found on the SGA
website
along with the description and criteria of their Pedestrian Danger Index. The outright #1 on the list was the Cape Coral-Fort Myers, FL area, while six other Florida metro areas – Palm Bay-Melbourne-Titusville, Orlando-Kissimmee-Sanford, Jacksonville, Daytona-Daytona Beach-Ormond Beach, Lakeland-Winter Haven, and Tampa-St. Petersburg-Clearwater – help round out the top 7. In total, Florida (or Flo-Rida if you're a jerk with bad taste in music) had eight in the top-10 and nine areas overall considered danger zones for pedestrians.
Cape Coral-Fort Myers, FL had a PDI of 283.1, whereas Detroit had a PDI of 124.2. The sky isn't falling – so to speak – but it is an alarming statistic. SGA said there have been 46,149 pedestrian deaths between 2005 and 2014 – with 4,884 of those deaths coming in 2014 which averaged to 13 people being struck and killed by a vehicle every day during 2014. This was 7.2 times more likely to die walking down the street, SGA said, than dying from a national disaster. They also break down the pedestrian deaths by race, age, median household income, rates of uninsured individuals, and make a claim that street design may be a factor as well.
Their study found numbers that indicate "older adults are similarly at a higher risk (as Native Americans or African Americans): individuals 65 years or older are 50 percent more likely than younger individuals to be struck and killed by a car while walking."
Smart Growth America is based out of Washington D.C. and the research was done as part of their Dangerous by Design 2016 campaign. The project was funded by the AARP, American Society of Landscape Architects, and the Nelson/Nygaard Consulting Associates.