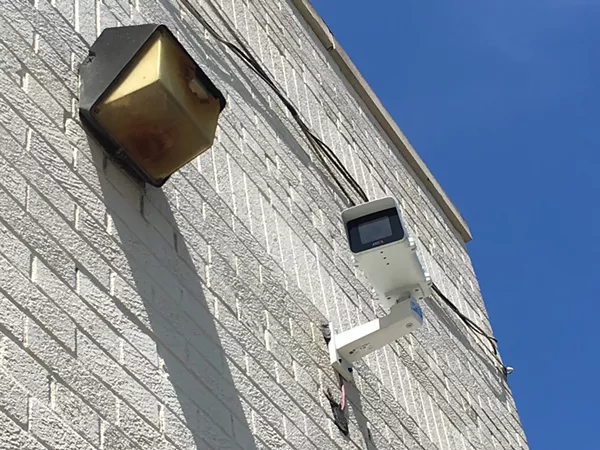 The 23 new cameras capturing live footage of people going in and out of the Randolph Career Technical Education Center in Detroit are supposed to be scrutinized by the watchful eyes of crime monitors at Detroit Police Headquarters. But as the city touts the beginning of an effort to put real-time surveillance cameras on Detroit public schools — the cameras are drawing scrutiny from some students.
More than a hundred students and adults have signed a
petition
to keep the so-called Project Green Light cameras out of the Detroit Public Schools Community District, where city and school administrators have said they plan to expand the program. Students involved charge that the thousands of dollars it costs to purchase each camera could be better spent, and they're worried the cameras could ultimately widen the school-to-prison pipeline by sending more students into the criminal system.
"I don't really feel comfortable with police constantly monitoring a bunch of black and brown kids," Cass Tech senior Tamera Middlebrooks says. "I think it could end up putting us in more harm than making us feel safer."
The Project Green Light program, now in its third year, has until this point mostly targeted activity outside of the more than 300 gas stations and other businesses that buy into the program. The expansion of the program to a Detroit educational facility was announced by city officials and the district early this month, with eventual plans for cameras on additional schools.
"DPSCD students' safety is key to increasing our enrollment and creating a learning environment where students can focus on their education," superintendent Nikolai Vitti said in an April 3 news release touting the cameras on the tech center.
While the city has credited Project Green Light with helping reduce crime at most of its locations by 11 percent within a year, the program's detractors have said the
decline cannot directly be attributed to the surveillance cameras
. Crime in the city has dropped overall, and Green Light locations benefit from additional services that could reduce crime — like increased lighting and stepped-up police patrols. Also at issue is the lack of a comparative study to measure the program's effects — meaning, the reduction in crime at Green Light locations was not measured against other businesses of the same type in the same area that did not have Project Green Light.
Separately, the limited number of people monitoring the video streams is likely to reduce the program's efficacy as it grows. According to the
Detroit Free Press
, in January, there were just eight people monitoring feeds from more than 200 businesses at any given time — and each business has at least four cameras on it. Detroit Police Chief James Craig has said more officers and civilians will be needed to review the surveillance feeds as the program grows toward officials' goal of 400 partners this year, though he hasn't said how many he might add. A 2011 report by the Urban Institute found city-level surveillance programs are beneficial when actively monitored, though "in some contexts and locations these crime reduction benefits are not realized."
Despite the accolades given to the program by the people in charge, Williams' point of view is gaining traction as he and others who doubt the program's efficacy garner mainstream media attention.
Even still, the notion that the program doesn't necessarily work hadn't made it to Middlebrooks and her peers at Cass Tech. When presented with the information, the 18-year-old said it reaffirmed her position that the resources could be better spent.
"If there's no actual proof it's helping make things safer, then that's all the more reason to keep it away from schools," Middlebrooks says. "The resources they spend on putting cameras in schools could go to something more important, like textbooks."
The Detroit Public Schools Community District — a debt-free district created as part of a plan to help the old Detroit Public Schools avoid bankruptcy — most recently made headlines for its students'
poor performance on a national exam
. The kids were ranked worst in the nation when compared with students from districts in other big cities, and their scores fell lower than the last time the exam was administered.
Where the money to expand Project Green Light to other schools in the district will come from is unclear. A spokeswoman for the district said things were too preliminary to tell when we asked her on April 3. We asked again today and have yet to receive a response.
Project Green Light comes at a cost of about $5,000 for typical businesses that sign on, plus monthly fees for cloud storage and high-speed internet.
The 23 cameras at the Randolph Center are being paid for by the city workforce agency, Detroit Employment Solutions Corp., which is funded through the Workforce Development Agency and State of Michigan. The money for the Green Light cameras, specifically, comes from private funds raised for
recent upgrades to the school
, according to a spokesman for Detroit Mayor Mike Duggan. The school was recently infused with $10 million for a program to offer vocational classes to hundreds of high school students and adults in both the day and night times.
"We were thinking about the building being utilized more often at night and with multiple populations," Nicole Stallings, deputy director for Detroit's workforce development, told the
Detroit News.
Surveillance cameras are filming in and around the tech center as a national debate rages over school safety in the wake of a high school massacre in Parkland, Florida and a subsequent spike in violent threats at schools.
That conversation is not lost on Middlebrooks, who helped organize the walk out against gun violence at Cass Tech last month. While she agrees safety should be a priority and that "any school could improve their security," she believes measures like surveillance monitoring should not be imposed on students before their opinions have been taken into account.
Middlebrooks says she and her peers plan to present the petition to Superintendent Vitti once it receives 1,000 signatures.
Stay on top of Detroit news and views. Sign up for our weekly issue newsletter delivered each Wednesday.