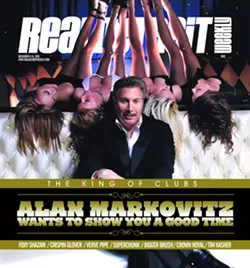 The owner of a pair of iconic Detroit strip clubs is being sued in federal court for a second time for allegedly failing to pay dancers and other workers a proper wage.
A class action lawsuit filed early this month says that Alan Markovitz — once hailed by the former
Real Detroit Weekly
as "arguably the most successful strip club owner in North America" — intentionally misclassified employees at the Coliseum and Penthouse Club as independent contractors; didn't pay them a minimum wage; forced them to turnover tips to employers; and required them to pay unlawful rents, fines, and penalties for lateness and misconduct.
Markovitz settled a similar suit brought by dancers at the same clubs in 2014 for an undisclosed sum.
According to an MLive report on the previous filing, the p
laintiffs then explained Markovitz's business model using words from his own biography,
Topless Prophet
. In the book, Markovitz said that as opposed to paying dancers — which had been the norm when he got into the business – he could make them pay him, because the club offered the infrastructure for the women to earn incomes that were higher than minimum wage.
MLive
reports that Markovitz began to hire dancers as private contractors, rather than employees, exempting him from state-mandated employee costs and insurances. His book says that, at first, he charged the girls $20 per dancer shift, which at one point brought the clubs about $36,000 per month. Dancers also had to pay $75 for use of the VIP room for private dances.
An attorney who represented the plaintiffs in the 2013 case against Markovitz and is also handling the suit filed this month says, this time, the plaintiffs hope Markovitz will be made to change his employment practices.
"They're under the control of the club in terms of how they dance, where they dance, what they wear," says attorney Megan Bonanni. "It's a classic employee-employer relationship, where the employer retains control over all of the conditions and terms of employment and yet the employee, [who is classified as an independent contractor], has none of the rights and that has to change."
Bonanni was one of the lawyers on a separate class action against Déjà Vu clubs in Michigan and elsewhere. That suit recently resulted in a pending
$6.5 million settlement
that includes additional employment rights for dancers at the club chain. Déjà Vu will use an agreed-upon assessment process to determine whether the dancers should be considered employees or independent contractors. The dancers can also have their say on which status they prefer after they're presented with details on benefits of employment (worker's compensation, unemployment insurance, the ability to unionize, etc.) through an informational video.
The three model plaintiffs bringing the class action lawsuit against Markovitz are women from Southfield, Roseville, and Flint. They've opted not to identify themselves, partly due to what the suit describes as the stigma that surrounds their profession.