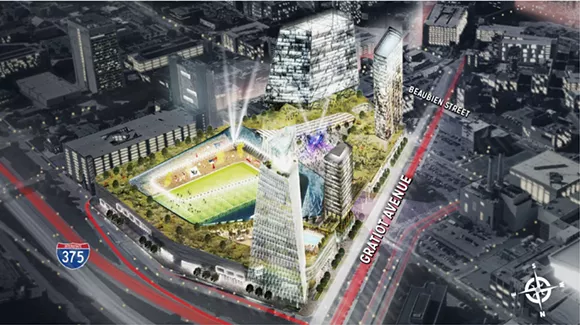 Nearly a decade into the saga surrounding
Wayne County's costly botched effort
to build a new jail in downtown Detroit, taxpayers are starting to see the
light at the end of the tunnel
. Only it's not yet clear what will emerge on Gratiot Avenue: a completed jail at the original site of the long-halted project, or a
shiny new soccer stadium
that would saturate a less than 2-square-mile swath of an American city's downtown with an unprecedented four professional sports facilities and five professional teams.
In a
complicated trade
proposed early this month by Dan Gilbert's Rock Ventures, the county would give up the site of the "fail jail" and four other criminal justice buildings in exchange for a to-be-built criminal justice complex east of I-75 near Warren Avenue. Rock would build this "state-of-the-art" facility worth an estimated $420 million and sell it to Wayne County for $300 million — as much money as the county expects it would cost to finish building the jail at its existing location and renovate the Frank Murphy Hall of Justice. Gilbert would wind up with the "fail jail" site, the courthouse, two jail facilities, and a juvenile detention center in the swap. In the Gratiot jail site's place, he would put a $1 billion mixed-use development that would include a roughly 20,000-seat soccer stadium if a
bid to buy an MLS franchise
with Detroit Pistons owner Tom Gores goes through.
On its face, the proposal would not require taxpayers to foot the bill for the potential sports facility, but that could change if
Gilbert-backed legislation
to allow "transformational" development projects to capture tens of millions in tax dollars receives approval in Lansing. Also at issue is the proposed soccer stadium's location within the Downtown Development Authority district. And a provision that would have Wayne County paying Rock
an unspecified "credit"
for money saved through the jail consolidation could tip the delicate balance of what Gilbert's folks are billing as a win-win against the county.
Under the current deal, the county will "literally be paying the developer some amount of money for some undefined period of time based on how much they think they might save with the new jail complex," said John Mozena, of the conservative Mackinac Center for Public Policy. "Since the jail line item in the county's budget is something like $116 million, that credit could be pretty significant. There's also nothing in the proposal for over how long that credit will be calculated."
It's an issue Wayne County Executive Warren Evans has said he's carefully considering as he mulls whether to accept Rock's initial offer.
"While I want closure on this mess as badly as all of you do, we have to get it right," Evans told reporters at a Monday news conference.
Thorough vetting of the deal comes at a price, however, and Evans has requested that the
Wayne County Commission approve $500,000
for the county to pursue a "dual-track approach" by covering the cost for a separate company to prepare a proposal to complete the jail as well. The county on Friday issued an RFP to Chicago-based Walsh Construction — the only company that has expressed interest in finishing the project. Which track Evans will ultimately decide to pursue may not be known until May.
It behooves county officials to proceed with caution. Construction of the half-built jail is already way over budget, and the county was on track to spend $90 million more than the $300 million it had originally intended before it halted the effort in June 2013. But as the jail site sits idle, maintenance bills are piling up. The
Free Press
reported in 2015 that the county was paying
$1.2 million a month on upkeep
of the site — and as the pause approaches the four-year mark this spring — that cost will be somewhere near $60 million.
Building the site elsewhere, however, could force the county to repay $51 million in federal bonds that it has already received for the jail and could jeopardize future subsidies. Evans said Monday that the county is working to find out how much it may be on the hook for, and Wayne County Commission Chairman Gary Woronchak indicated that any potential bond penalty would scuttle the Gilbert deal, which will need final approval from the commission.
Supporters of the swap argue that positioning a jail off a key entry point to a resurgent downtown sends the wrong message to guests. A stadium, they argue, would not only be a better option visually, it would be a boon for the economy. Rock Ventures has said the mixed-use development that would include the soccer facility would produce up to $2 billion dollars in economic impact.
It's unclear how Rock Ventures arrived at that estimate, however, because the company will not release the economic impact report it hired the University of Michigan's Center for Sports Policy to compile. Many economists have determined that stadiums do not generate significant local economic growth; a 2008 look at almost 20 years of peer-reviewed studies on the economic impact of stadiums, arenas, and sports franchises
found no substantial evidence of increased jobs, incomes, or tax revenues
in communities associated with these things. The Brookings Institution has separately found that most of the arguments to support the construction of stadiums — jobs, new spending by people who attend games — are based on
bad economic reasoning that leads to overstated benefits
.
"The problem with economic impact is that you can kind of make up any number," says Neil deMause, a journalist and author who's
been researching sports stadium deals
for two decades. "You're projecting how many tickets you think you're going to sell and how much people are going to spend in the stadium and outside the stadium and if you put on glasses that are rose-colored enough you can make up pretty much any number and people do.
"The other part is that economic impact is … just the amount of money that changes hands by people who are spending money. You want to look at actual tax receipts to determine what [benefit a stadium will bring] and that number is way, way, way smaller than the actual money that changes hands."
Still, adding one more stadium downtown will at the very least mean more money for downtown businesses, says Wayne State University development law professor John Mogk.
"Those who attend the games branch out and connect with other kinds of venues and commercial operations when they come to visit," Mogk says. "[They] go to restaurants thereafter, do some shopping thereafter, stay in the local hotels."
But deMause says that theory might not hold true in a city where there will be four professional sports facilities vying for fan dollars. He points to a 2012 study published in the Journal of Urban Affairs that focused on the impact of basketball arenas on personal incomes and found that incomes only seem to get a boost
in single-sport towns
.
"If a soccer team comes to Detroit and is successful, but all it means is that people start buying soccer tickets and drop their Tigers ticket plan because the Tigers are doing lousy, then that doesn't create anything additional at all," deMause says. "The more teams you get, the more concern there is that you're just cannibalizing sports spending that would go to something else."
Of course, revenue generation matters very little if the public isn't bearing the burden of stadium development. But there are those who fear Gilbert and Gores will find a way to steer taxpayer dollars toward the soccer project, whether it be through approval of a bill to capture up to $40 million in Michigan income tax to offset the cost of large development projects, or through tax-capture mechanisms through the
Detroit Downtown Development Authority
. Gilbert and Gores could theoretically ask the DDA to create the stadium a special tax increment-financing district like it did for the
Little Caesars Arena
.
"It's a very complicated offer to get a handle on what the cost is actually going to be to the public," says Wayne County Commissioner Glenn Anderson, who notes the proposed stadium already falls within the general DDA area. "Taxes are captured and they're not going into the coffers of the county or the coffers of the city of Detroit, so it's going to wind up being a cost to the city to provide security, traffic control [and] other things — and yet all the money would go to the DDA for future development or enhancing that area and that, to me, is a problem."
And the stadium could also avoid a tax bill depending on who technically owns it. For instance, the Little Caesars Arena is owned by the DDA, which is considered a public entity. Rock Ventures Principal Matt Cullen has told
Crain's
that Gilbert and Gores have
not yet determined who would own
the soccer site.
Public financing issues, however, are not at the forefront of the minds of county officials as they consider how to close the curtain on the "fail jail" saga. Evans on Monday seemed to be leaning toward finishing the jail and described Gilbert's offer as a starting point for negotiation.
"Make no mistake, this is not an act of philanthropy by Rock Ventures, it's a business deal," said Woronchak. "Some people have a knee-jerk reaction that this is too good to be true ... and Rock is saving us. That's not quite the case yet."