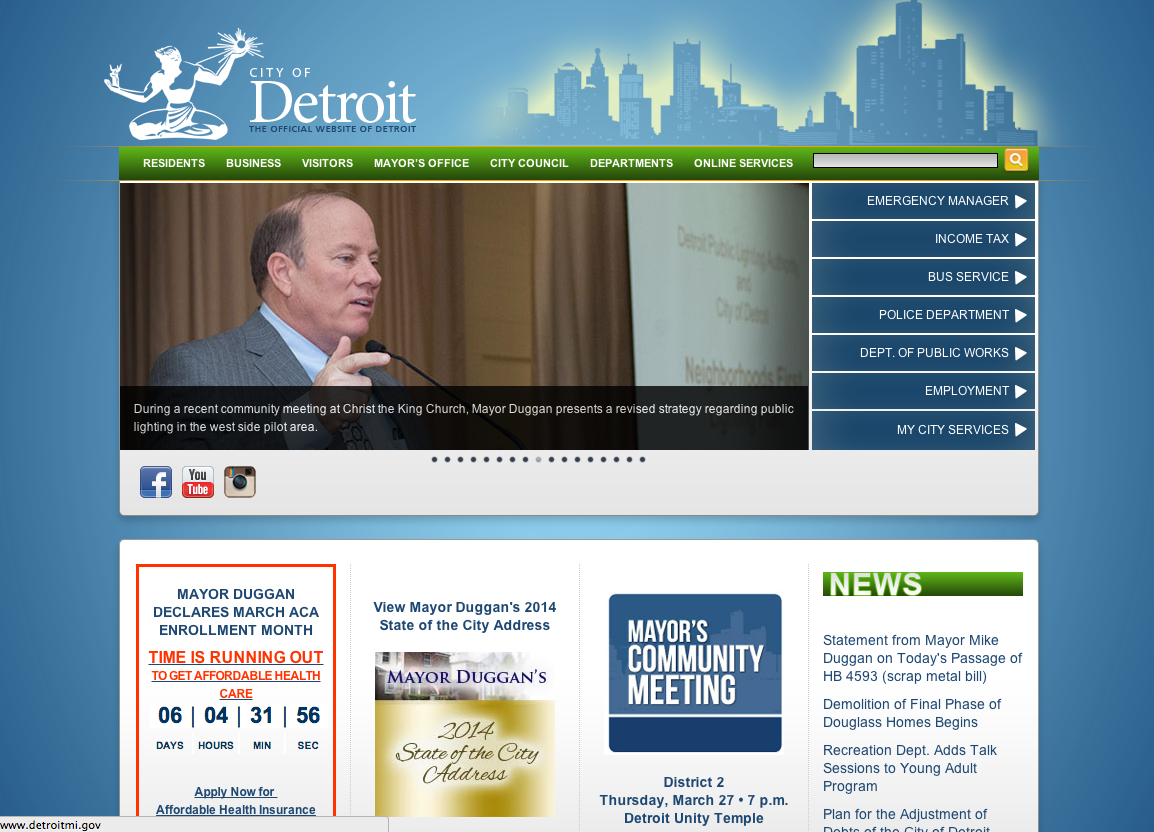 The Hits crew is savvy enough to know Detroit's finances are in rough shape, but we were surprised to learn this week of a new initiative that highlights the city's issues even further.
Mayor Mike Duggan's administration tells us Detroit recently applied for a grant from the Knight Foundation to update its inefficient website. Spearheaded by the city's new Chief Information Officer, Beth Niblock, Detroit is one of 660 submissions vying for a share of $5 million in the foundation's Knight News Challenge.
The initiative, according to the Knight Foundation's website, seeks to "accelerate media innovation." If we can say so ourselves, that could be of use to the city's benefit. The site has the feel of a Flintstones-style Web 0.00 creation; it's a trudge for the layman to, say, locate some public documents or find council meeting dates.
That's what the city hopes to resolve, says John Roach, spokesman for Duggan. He tells the Hits the city is looking to tap funds to pay for "a new, much more enhanced, much more usable website."
Roach says a recent audit revealed the website has roughly 1,200 broken links. Accessing the website is also cumbersome for the 40 percent of users who visit detroitmi.gov through their mobile phone, he says, as its not adaptive for such devices.
The desperate picture of a city having to turn to grants to generate funds for a new website isn't lost on Duggan's administration. But officials say it shouldn't prohibit the city from finding ways to improve technological services if they exist — especially in its current fiscal state.
Roach tells the Hits, "I think it's time the city requires some novel ideas. … Wherever we can find possible sources of revenue for the general fund, we're going to go after them."
Duggan points to New York City's website as a model for what he'd like to see in Detroit, Roach says. The city hopes to have a website that provides more timely information, offer a steady stream of developments at City Hall, fix broken links, streamline navigation tools and allow for news sources to be easily accessible on the website, the spokesman says.
"We're also working toward a customer service component … that we expect will be front-and-center on the website," Roach says. "Once we get that mechanism in place, it's where people would be able to report problems from a mobile device," including streets needing to be plowed, streetlights out, potholes and more.
Evaluation of submissions for the Knight News Challenge begins late next month, and winners will be announced in June. For more information on the grant submission and the city's website plans, click here.