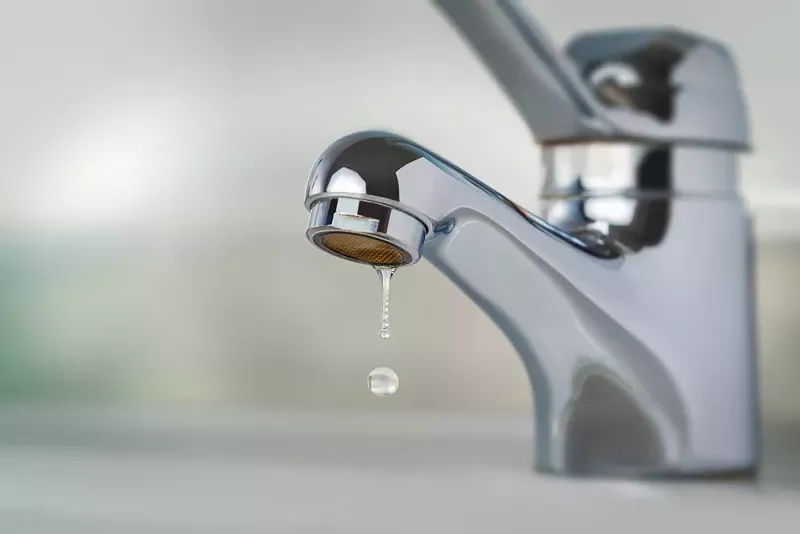 In Detroit, access to water may be something of a luxury item.
A
national survey
published yesterday by Food & Water Watch found that Detroit had the ninth highest water shutoff rate in the country in 2016. The survey found that nearly one in eight Detroit residents had their water shut off for nonpayment and that low-income residents were disproportionately affected by the shut-offs.
According to the survey, the cost of water has become a strain on Detroit resident's income. One in five residents were found to pay over 10 percent of their income on their water bills, the highest water burden cost of any city surveyed.
"By any metric, that is simply unaffordable," said Mary Grant, Public Water for All campaign director at Food & Water Watch and the lead author of the study. "Detroit urgently needs to stop the shutoffs until it implements an income-based water affordability program."
In 2014, the city began an aggressive campaign to shut off water for customers with overdue bills. City officials have said the campaign has contributed to a decline in shut offs since 2014 and serve as proof that the city is on the right track to reverse the enormous debts that pushed Detroit toward insolvency.
But the campaign has also drawn
backlash
from water activists and experts saying that treating water as a luxury item more than a public service. The United Nations has even weighed in,
calling
the water shut-offs "a violation of the most basic human rights of those residents" in a 2014 statement.
Many customers who the city has put on payment plans also do not see their water returned for months, despite city officials
claiming
that water is restored within 48 hours to shut-off customers. According to city records
obtained
by
Bridge Magazine
this week, as many as 2,715 homes still remain without water after they were disconnected this year, and more than 900 homes have not had water for three months.
Sylvia Orduño, a water activist from the Michigan Welfare Rights Organization, says that she has heard from residents and hospitals about a bevy of problems that are directly caused by a lack of access to water.
"They told us about the number of residents who have come in with public health water-related problems and for many of these diseases, we know you need to have water to wash properly and maintain your sanitation at home," says Orduño. "We are calling out very strongly the link between the water crisis and public health problems."
"If a household does not have water, a household that does not have radiators in their home can now not have heat," she said. "You are at risk of burst pipes,"
Keeping water connections running while also maintaining a healthy amount of debt is particularly challenging for a city like Detroit, which has the lowest workforce participation
rate
in the nation and has one of the worst
squatting problems
in the country.
"The message I'm trying to get across is that so many of these people who don't have water, they're not customers. They're people who move into houses and don't have a legal right to be there," Gary Brown, director of Detroit's Water and Sewage Department,
told
Bridge
.
Still, Browns says that Detroit has expanded assistance efforts and helped customers avoid disconnections through payment plans or programs like the Water Residential Assistance Program (WRAP).
Other large cities that have struggled with water shut-offs have set policies in which water bills are based on household income and size rather than consumption. Rob Ballinger, an attorney at Community Legal Services in Philadelphia, said that the water affordability program that the city adopted last year has specifically helped low-income residents pay their bills.
"The Tiered Assistance Program calculates two percent or three percent of monthly income and those bills represent the total amount that TAP participants are required to pay for services," said Ballinger. "We are also working with the city towards forgiveness for their debts."
The Tiered Assistance Program, Ballinger said, has enrolled more than 15,000 households since it began in the fall of last year.
Rep. Keith Ellison (D-MN) also introduced a Flint-inspired bill in Congress that would invest $35 billion each year in water infrastructure and clean water program earlier this year.
"Low-income communities and communities of color can't be expected to thrive when they lack basic necessities like water," Ellison
said
. "We are one of the richest nations in the world: it is time to guarantee clean water as a right for all."
Lucas Maiman is a fall editorial intern at Metro Times.

Stay on top of Detroit news and views. Sign up for our weekly issue newsletter delivered each Wednesday.