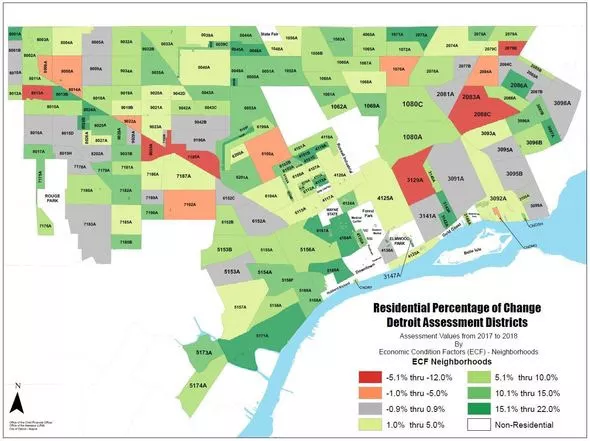 Detroit's narrative as the "Comeback City" just got another boost.
Today, officials announced that for the first time in 17 years, residential property values within city limits have increased by as much as 10 percent.
According to a press release, the assessments are based on actual property sales and reflect an overall increase in the city's cumulative residential property value.
In 2008, that value was nearly $9 billion, but it fell to $2.8 billion by 2017. This year, city officials are assessing the overall residential property value at around $3 billion. While it's a small increase — a total of $263,000 across all residential properties in the city — officials say it marks a visible improvement.
"This is another sign of progress," Mayor Mike Duggan says in the press release. "We still have a long way to go to in rebuilding our property values, but the fact that we have halted such a long, steep decline is a significant milestone. This also corresponds with the significant increase in home sale prices we have seen in neighborhoods across the city."
In addition to residential property value increases, commercial and industrial properties also saw elevated assessments.
The increased values could mean properties owners will see an increase in taxes too, but that increase rate is capped at 1.02 percent, according to the press release. When and if the property changes hands, the tax assessment is uncapped and the new owner will be required to pay taxes on the updated assessment.
In 2017,
a study
conducted by a visiting Wayne State University law professor and an assistant professor of economics at Oakland University found Detroit found 55 to 85 percent of properties to have been assessed in violation of the Michigan constitution every year from 2009 to 2015. The assessments were, at times, far above the legal limit, resulting in higher taxes: The study found that in 2010, assessments were on average more than seven times higher than the legal limit. In 2015, they were more than twice higher.
According to the press release, all assessments have been mailed to property owners. The document is not a bill, and residential property owners can contest their assessment by Feb. 15 by visiting Room 804 at the Coleman A. Young Municipal Center at 2 Woodward Ave., in Detroit. Commercial, industrial, and personal property owners can contest the assessment with the Michigan Tax Tribunal by May 31.