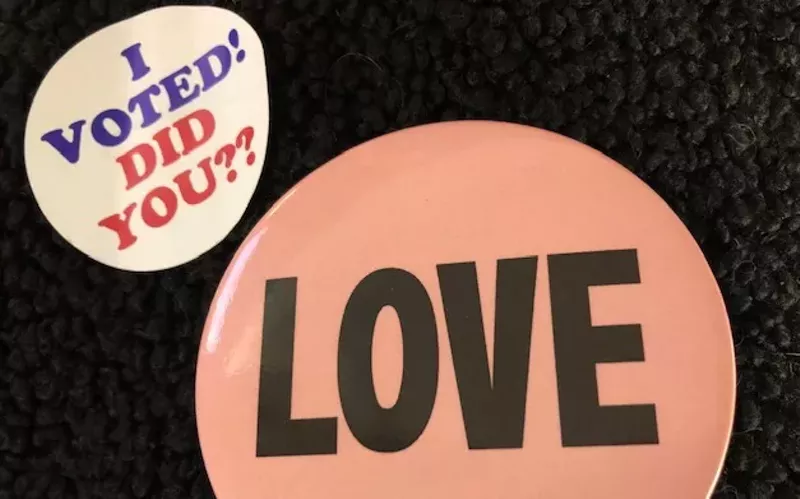 At a fire station on the corner of 2nd Ave and Burroughs, Hannah Kessler had the opportunity to vote in an election for the first time.
"I felt really bad that I missed the 2016 election," said Kessler, a 21-year old student at the College for Creative Studies.
"This year, there's just a lot going on and maybe it's just me being a female, but I feel like I should do my part."
Kessler is one of many young women in Detroit who has been energized by derogatory language from the White House to come out to vote today. Though protests and massive women's marches across the country have been an effective, if not cathartic, outlet over the last two years, today, many women see voting in this election as a potential milestone in their opposition to President Trump and the Republican Party.
"It's big for women this year because this administration is trying to silence women," said Patricia Harris, a 27-year old transfer student at Wayne State University who brought her young daughter to the polls with her.
In Michigan, the Democratic Party is running women for each of the highest offices in the state: Gretchen Whitmer for Governor, Jocelyn Benson for Secretary of State and Dana Nessel for Attorney General. Democrats Debbie Stabenow and Brenda Lawrence are also nominated for United States Senate and Congress respectively. All five women are squaring off against Republican men.
"Not only do women need to be more politically active for themselves to be empowered,
we
have years of brutality to try to make up for," said Regina Mareglia, 23, a bartender in the city. "I think we still have a platform to use our power."
Long before the #MeToo movement took down some of the most prominent men in entertainment, politics, and media, Whitmer had shared her own personal story with sexual assault. As a Senator in the state legislature in 2013, Whitmer gave a floor speech in which she revealed that she had been assaulted as a freshman at Michigan State University.
Whitmer says she was heartbroken that not a single Republican voted against confirming Supreme Court Justice Brett Kavanaugh after watching Christine Blasey Ford's testimony.
"It's still obviously going through a process," Whitmer
told
Metro Times in an interview last week. "That's why I work so hard, in the hope that my kids don't ever have to say, 'Me too.'"
But not everyone views the #MeToo movement as positive. Although almost 70 percent of Americans say the movement has created a climate in which offenders will now be held accountable, 40 percent believe the movement has gone too far, according to a new NPR-Ipsos poll
released
last week. In battleground states, some Democratic candidates are softening their language on harassment and gender equality in the wake of the heated Kavanaugh confirmation.
"I think we were raised in a time when we saw so little impact compared to when our parents lived that we thought it wouldn't matter, but we've really had our teeth kicked in," said
Mareglia
.
"I think we're scared and the status quo needs to be changed."
Kessler agreed that national events have sparked a greater sense of political purpose for young people.
"I think there's been a huge rise among young people, especially on social media everyone's being very active," Kessler said. "It used to
be drink
your water, now it's like, 'everyone vote.'"
Lucas Maiman is a fall intern at Metro Times.

Stay on top of Detroit news and views. Sign up for our weekly issue newsletter delivered each Wednesday.