Updated 10:34 a.m. Thursday, Jan. 12:

This post has been updated to include additional comments from the Detroit Police Department.
Originally posted 04:26 p.m. Tuesday, Jan. 10:
At about 3:15 a.m. Sunday morning, residents in the heart of Midtown were awakened as a series of shots rang out from the middle of Second Avenue at West Canfield Street near Shinola and Traffic Jam & Snug.

A 23-year-old man had been shot at what residents say authorities described as close range. The young man was in such dire straits that Wayne State Police officers — who responded within moments of the shooting — had to load him into the back seat of a cruiser and personally shuttle him to Detroit Receiving Hospital. An ambulance, they intimated, would have taken too long.

The investigation was handed over to Detroit Police, and as of Monday morning, media outlets had been mum on the weekend shooting — perhaps because police preliminarily described a victim with "non-life-threatening injuries." Later that day, DPD amended the initial wording it used to describe the man's condition, saying he had been treated for "non-fatal" wounds. It also adjusted the time the incident occurred.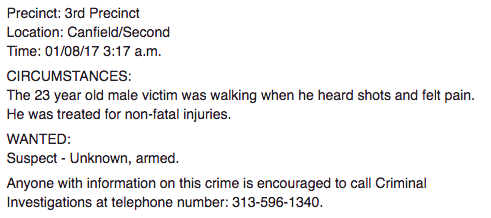 The first media report on the Midtown shooting popped up Monday afternoon, with the
Detroit News
reporting that DPD spokeswoman Jennifer Watson claimed the man was
in critical condition.
Each update on the 23-year-old's state was wrong. The Wayne County Medical Examiner's Office tells Metro Times the young man, named Devante Hogan, was killed in the shooting. In fact, he was pronounced dead in the hospital at 4:26 a.m. on Sunday, a little over an hour after he'd been hit in what was described as a barrage of bullets. It wasn't until MT approached DPD with that information Tuesday afternoon that they properly updated the man's condition.
Discrepancies between deaths logged by Detroit Police and the Wayne County Medical Examiner are not uncommon. In 2015, the M.E.'s office reported that there were 313 homicides in the city, while Detroit Police reported 295. However, some discrepancies can be blamed on what constitutes a homicide in the eyes of Detroit Police. If the killing is ruled "justified," or done for the purpose of self-defense, DPD says it does not classify it as crime-related.

As for why this latest killing on one of Midtown's poshest corners took Detroit Police two-and-a-half days and much prodding from MT to disclose — the Department says there "were no discrepancies" because "on the day of occurrence ... [the victim] was in critical condition."
Indeed, the owner of the 2nd Avenue hookah lounge Hogan had patronized just before he was shot says that, as of Sunday afternoon, DPD officers were still at the scene and were unaware the young man had died. Wayne State Police Chief Anthony Holt says his officers knew because they had stuck around at the hospital while Detroit Police processed the scene.
DPD Spokesman Michael Woody notes that it's standard procedure for his media department to update crimes beyond what's available preliminarily only when asked. And he says superficial updates to this particular incident may have been made simply because new information came in from field officers. Those officers, Woody says, likely did not know at the time that Hogan had died because getting that information often requires a stop back at the hospital or morgue.
"We are a completely transparent department; we have nothing to hide," said Woody in an interview following the initial publication of this report. "This is a crime that happened. We want people to know about this so they can call us with the information so we can solve the crime."

To that end, officers have obtained some surveillance video they think may help them catch Hogan's killer. You can take a look at that here.