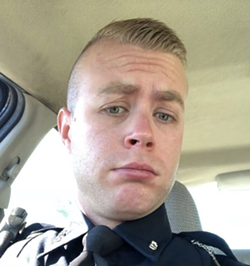 Updated 2:11 p.m.: During a press conference Monday afternoon, Detroit Police Chief James Craig announced that officer Sean Bostwick has been terminated after making a racist comment on his personal Snapchat. Craig confirmed that as of tomorrow, Bostwick will be "off the payroll, no longer a Detroit Police officer."

Originally posted 10:38 a.m.:

The Detroit Police Department confirmed the suspension of a rookie officer Monday morning after publishing a racist caption on Snapchat over the weekend.

Just two months out of the Police Academy, Sean Bostwick of the 12th Precinct took to Snapchat to post a smug uniformed selfie with the caption: "Another night to Rangel (sic) up these zoo animals."

DPD was alerted of Bostwick's snap Sunday, which was captured and shared by former Detroit police officer and co-chair of the department's discrimination committee, John Bennett.

Chief James Craig told the Detroit News that the suspension was immediate, "I suspended him on the spot as soon as I saw that post," Craig said. He added that Bostwick's behavior is "highly disturbing" and that officers throughout the department are "disgusted."

"This isn't reflective of the officers who work in this department."

Some people, however, are calling for a more severe punishment. In a press release from the Detroit Coalition Against Police Brutality, spokesperson Kenneth Reed says that suspension does not properly convey the department's "no tolerance" message and calls to Chief James Craig to terminate Bostwick.

"If you call someone an animal, you will treat them like one. That is unacceptable for one who is called to protect and serve," Reed says in the release.

Bostwick boldly took to Facebook yesterday to post a Pinterest-esque photo of a tranquil table and chair surrounded by misty woodland with the caption, "Relax and take a break." One commenter responded, "Take a break? More like get fired you dumb ass bitch! I hope you get bird flu. You filthy animal...," whereas one person simply echoed the sentiment with, "UR not welcome in Detroit."

Editor's note: The police officer's name was originally reported as Sean Botswick. The article has been updated to reflect the officer's correct name, Sean Bostwick.

Stay on top of Detroit news and views. Sign up for our weekly issue newsletter delivered each Wednesday.