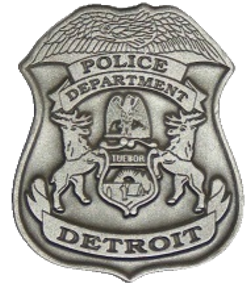 A Detroit police officer has been demoted after posting a scathing anti-Black Lives Matter message on Facebook, Police Chief James Craig said Monday. Warrant requests are also being submitted for multiple Detroit residents accused of allegedly threatening to kill police officers on social media, the chief added.
In a press conference at Detroit police headquarters, Craig said he was alerted by a local activist group on Saturday about a post by Detroit Police Det. Nate Weekley criticizing protesters in the wake of a turbulent week across the U.S. that was punctuated by a shooting spree in Dallas that left five police officers dead.
Demonstrations broke out in cities across the country following the police-involved killings earlier in the week of Alton Sterling in Louisiana and Philando Castile in Minnesota. Over the weekend, tensions escalated in St. Paul, Minnesota and Baton Rouge, Louisiana, where hundreds of protesters were arrested.
Weekley, a 17-year veteran of Detroit's police force, blamed protesters for the violence.
"The only racists here are the piece of shit black Lives Matter terrorists and their supporters," he said.
Following a three-hour meeting with the National Action Network's (NAN) Michigan chapter on Saturday, Craig said he moved to demote and reassign Weekley from detective to police officer.
"Social media can certainly be a friend, but if you want to inject personal opinions, then we will take quick and prompt action," Craig said. NAN, a civil rights organization founded by the Rev. Al Sharpton, had called for Weekley to be fired, but Craig said the officer is still entitled to due process.
Weekley is the brother of Joseph Weekley, a former Detroit SWAT officer who was reassigned after fatally shooting Aiyana Stanley-Jones, a 7-year-old Detroit girl who was killed during a 2010 raid.
Craig said the officer's remarks have a "tendency to undermine" exemplary police work, pointing to peaceful protests in downtown Detroit on Saturday over the killings of Sterling and Castile. Craig met with organizers prior to the rally commencing, voicing his support for their efforts, and police officers remained respectful throughout the evening, even as the demonstration blocked traffic in the city's core.
"We're held to a much higher standard," Craig said of police officers' conduct outside of work.
The chief was briefed minutes before the presser began on a separate social media post by a black supervisor he called "troubling," but declined to elaborate, only saying race doesn't play a role in examining officers' standards.
"I'm colorblind to this," he said.
Separately, Craig said Detroit police are "in the process" of submitting felony warrant requests for four individuals who allegedly threatened to kill police officers to the Wayne County Prosecutor's Office for review.
"We're not going to tolerate a threat against police officers," he said. The Detroit News reported Monday that, among the messages purportedly written by the individuals, one stated: "It's time to wage war and shoot police first."
Weekley's full message on his Facebook page, which could not be accessed as of Monday, is below.
"For the first time in my nearly 17 years as a law enforcement officer I contemplated calling into work in response to the outrageous act perpetrated against my brothers. It seems like the only response that will demonstrate our importance to society as a whole. The only racists here are the piece of shit black Lives Matter terrorists and their supporters."