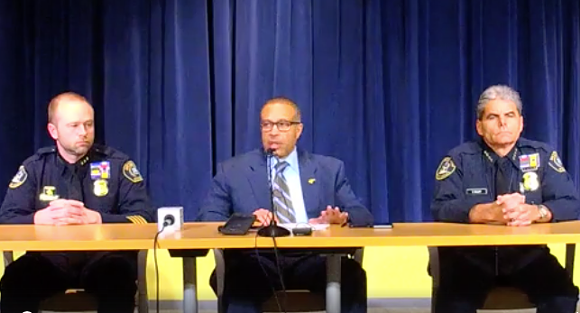 The only living witness to Monday's
deadly police-involved shooting
on Detroit's west side is the officer who fired the shot that killed 18-year-old Raynard Burton. And the Detroit Police Department says that officer wasn't wearing a body camera and was too far away from his dash cam at the time of the shooting for it to have recorded any footage that could help shed light on the moments just before Burton was killed.
Authorities say the shooting occurred Monday afternoon near Joy Road and Grand River on a block of mostly vacant homes. Initially, Detroit Police Chief James Craig had said that Burton grabbed the officer's gun during a struggle before his death. Craig recanted that statement Wednesday and reiterated that the officer unholstered his weapon while running after Burton before the killing because he'd seen Burton grab at his waistline and feared for his safety.
Police say the officer — an unnamed 22-year veteran of the force — was with his partner when they initially pursued Burton after seeing him drive by at a high rate of speed. It turned out later that Burton was the suspect in a carjacking that had occurred days before.
The officer who killed Burton chased him on foot through two abandoned homes before catching up with him in a backyard on the 4200 block of Webb. It was there that Craig says the officer got into a physical altercation with Burton. The Wayne County Medical Examiner's Office says the teen was killed by a bullet that hit him in the right side of his chest. Police say the officer's partner was too far away to have seen what happened.
DPD is leading the investigation into the shooting, which includes some Michigan State Police officers. Craig says forensic evidence and the medical examiner's final report will help give investigators a better idea of exactly what took place and whether charges should be brought against the tenured cop. The officer, who is black, is currently on restricted duty pending a psychiatric evaluation and the outcome of the investigation. Craig says investigators will likely finish evaluating evidence by Monday. From there, the case will go to the Wayne County Prosecutor's Office for possible charges.
Police say Burton has a criminal history of assault, including that of a prison employee. They say he's also been arrested for car theft and a narcotics crime. Court records, however,
show none of these crimes
. Craig was unable to speak to why that might be the case, but Burton's record could be protected under the Holmes Youthful Trainee Act if he was charged as a juvenile.
The Detroit Coalition Against Police Brutality has asked for an independent investigation into the shooting and for the department to identify the race of the officer and divulge his disciplinary record, among other things.