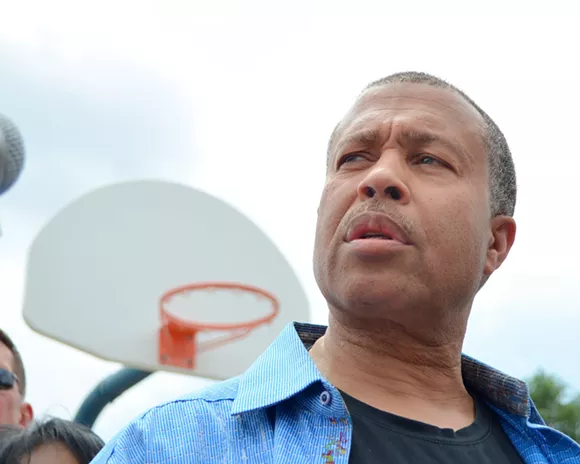 Detroit Police Chief James Craig on Sunday urged anyone with knowledge of what transpired Saturday before the city's largest shooting in years — an incident that left one dead and 11 injured — to speak out.
A festive atmosphere with upwards of 300 people turned violent around 8:30 p.m. Saturday, police said, when gunfire erupted during a neighborhood block party inside the basketball courts at Dexter and Webb on Detroit's west side.
So far, residents of the hardscrabble neighborhood who witnessed the shooting haven't said much.
"This is a passionate plea for this neighborhood to step up and say something," Craig said Sunday while standing on the bloodstained basketball courts.
Police believe two suspects, who remain at large, were involved. The chief described one as a 20-year-old black male with light complexion who was believed to be carrying a silver handgun with an extended clip, and the other as a 20-year-old black male with medium complexion.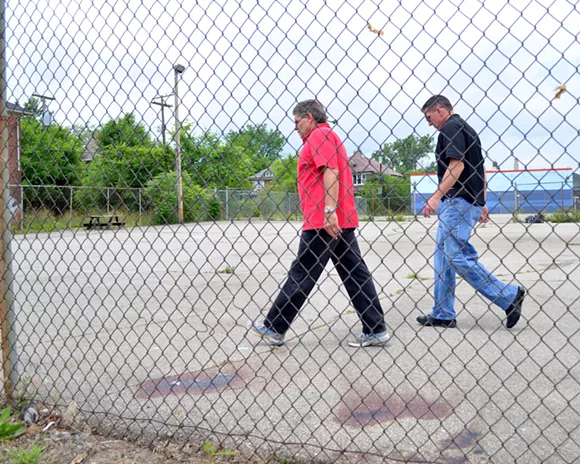 The annual party includes a basketball game between the Rude Boyz and Dexter Boyz, according to residents who spoke with
MT
; a pair of backboards on the court were spray-painted with the groups' names. In the hours before the shooting, children enjoyed an inflatable bounce house, families shared barbecue, while others celebrated a birthday party. Officers responded to the scene at 8:50 p.m., police said, about six minutes after the initial 911 call was received.
A clear motive is unknown and the police investigation remains ongoing, but Craig said the shooting is believed to be in "retaliation" against the fatal victim — 19-year-old Detroit resident Malik Jones, who is thought to have been involved in the gunfight. Jones was also injured in a shooting within the last month, Craig said. Efforts to reach Jones' next of kin Sunday were unsuccessful.
The chief couldn't say if the incident was gang-related, or who fired the first shot; he peppered his remarks with his description of the events as "urban terrorism." An estimated 47 shots were fired from three handguns, police said.
"Are we going to let these urban terrorists take over Detroit's neighborhoods?" Craig said.
The 11 nonfatal victims included four females and seven males, ranging in age from 19-47-years-old. Four remain in stable condition at the hospital, said Craig, while seven have been released and are recovering at their homes. The shooting involved the most victims in a single incident of violence in Detroit since
nine people were shot in a barbershop in 2013
.
Residents visited the scene on Sunday and members of the Salvation Army Detroit Temple at Dexter and Chicago gathered nearby to pray.
Jordan Brooks, 8, came with his grandmother, Bernice Hardy. Brooks' father was at the basketball court Saturday but left before the shooting and was not injured, Hardy said.
Brooks looked at the basketball court through the fence. "I was scared that my dad probably got shot," the 8-year-old said of when he learned about the shooting.
Jerome Thompson, 65, said he lived in the neighborhood for years before recently moving to Warren. The block party is typically safe and provides a welcoming environment for a community that doesn't have much of anything, he said.
"It's sad," said Thompson. "It's so dilapidated, and people here don't have anywhere to go."
Anyone with information on the incident is asked to call 1-800-SPEAK-UP or 313-596-1616.