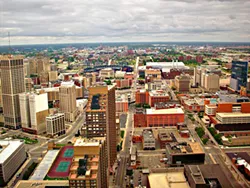 Across the country, the economy appears to be rebounding, with unemployment rates expected to fall and starting salaries increasing.
It's another story in Detroit, whose recovery from decades of population loss and the flight of manufacturing jobs has been a slow crawl.
In
a recent study
by WalletHub, the Motor City ranked as the third worst city in the U.S. to find a job. Detroit came in as 148 out of 150 — only ahead of Stockton and Fresno, Calif.
WalletHub's experts compared the 150 most populated cities and their metropolitan regions across two key dimensions — "Job Market" and "Socioeconomic Environment." They then factored in 17 metrics, including job opportunities and monthly median starting salary, and assigned a value between 0 for worst and 100 for best.
Here's how Detroit fared (with 1 as the best, 75 the average):
132 – Job Opportunities
34 – Employment Growth
149 – Unemployment Rate
118 – Industry Variety
27 – Monthly Median Starting Salary Adjusted for Cost of Living
149 – % of Workforce Living Under Poverty Line
146 – Median Annual Income Adjusted for Cost of Living
24 – Housing Affordability
150 – Disability Friendliness
The scarcity of jobs is compounded by metro Detroit's sprawl and lack of public transportation — an issue picked up by other outlets last year.
Calling Detroit an
"employment desert,"
Business Insider
wrote that the options are slim for Detroiters with limited skills and education — typically low-paying retail or sales positions far outside the city. According to the report, up to 40 percent of the Motor City's population doesn't own a car. Detroit, infamously,
has a terrible public transit system
.
Another report from
Bridge
Magazine
's Mike Wilkinson for
The
Detroit News
further explains the problem with job sprawl. According to Wilkinson, 80 percent of city residents live more than 10 miles from a central business district, one of the highest rates of the country. Detroit also has one of the worst rates of jobs per resident: 200 jobs per 1,000 residents. On the city's west side, the report noted there is less than one job for every 10 people.