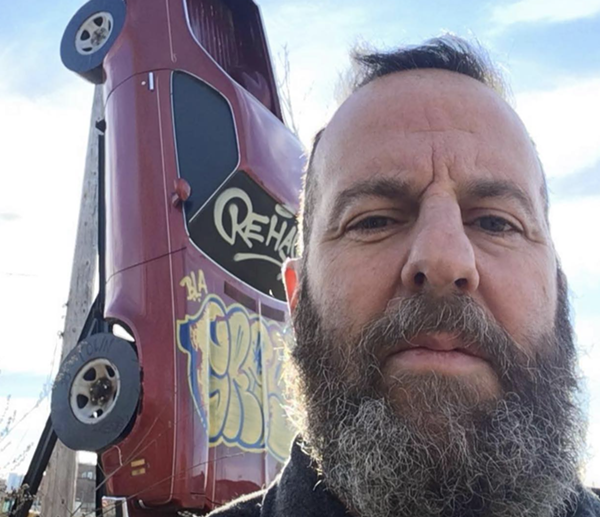 The owner of Detroit Mercantile — who is also one of the people behind the Made In Detroit brand — issued an apology late Wednesday evening for
spitting on a young black man on Tuesday in Eastern Market
.
The incident occurred during a parking dispute, and a video of the white owner, Robert Stanzler, spitting on the man, Ibrahim Muhammad Mission, went viral. Witnesses called Stanzler's behavior "vile" and "violent," and he was arrested and charged with assault.
Late Wednesday, Stanzler issued a lengthy apology that arrived via his PR agent, David Rudolph, and was posted to Detroit Mercantile's Facebook page.
"I want to express my deepest apology to Mr. Ibrahim Mission, for the incident that occurred on Tuesday, July 17, 2018 during the course of an argument I had with him over parking spaces at my place of business in Eastern Market. I take full responsibility for my actions, and want to convey regret for my gross and despicable behavior during the course of my argument with Mr. Mission.

My anger over a growing conflict pertaining to parking spaces between a neighboring business, got the best of me. I attempted to address the matter with Mr. Mission, but things quickly escalated and I lashed out. My behavior was unconscionable, offensive and disrespectful. Not only did I offend Mr. Mission by my actions, but I owe an apology to those who witnessed the incident, my staff, fellow business owners in Eastern Market, residents of Detroit; and friends and family who may bare this burden with me.

After the incident I attempted to apologize, however due to the heated circumstances, my apology was not properly conveyed.
Moving forward, I plan to speak to Mr. Mission directly to again convey my sincere apology. This unfortunate incident originates with the escalating parking challenged within district."
The apology comes as Detroit Mercantile and Real Detroit Events ready a temporary biergarten
that is supposed to open this weekend
in Eastern Market. Stanzler told the
Free Press
that the temporary biergarten will be set up on city-owned land that wasn't being used.
Muhammad wasn't immediately available for comment. But one of the witnesses and organizers of the event at which the incident occurred named ill Weaver isn't totally sold, and they shared this statement with
Metro Times
:
This is a reminder to support black- and brown-owned Detroit businesses and projects. His behavior is not a unique expression of anti-black racism and toxic masculinity from white-owned Detroit businesses, just a blatant example we can point to but this happens all the time in overt and insidious ways.

When will he go beyond superficial apologies addressing issues of parking in Eastern Market to addressing white supremacy and patriarchy? The notion of the urban pioneer (his business motto) is telling of a colonial approach, which is what this city is up against. Like Trump has emboldened racism and sexism nationally, Duggan and Gilbert have emboldened that locally. Just a year ago a houseless black man was beaten in Eastern Market by three white men, that is unacceptable, and this is a different result of that same entitlement. True Detroit (that has been here before New Detroit) is powerful and full of dignity, and won't allow this to continue. We look forward to when Ibrahim shares what he hopes will come out of this process so we can support him.

Stay on top of Detroit news and views. Sign up for our weekly issue newsletter delivered each Wednesday.