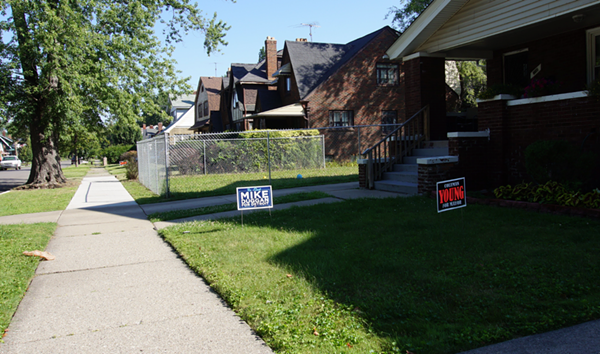 State Senator Coleman Young Jr., who is running for mayor of Detroit, has been staying optimistic this election season despite polls that show him lagging far behind incumbent Mayor Mike Duggan. When we asked how his canvassing effort was going a couple of weeks ago, Young, the son of the late Detroit Mayor Coleman A. Young, responded, "We're winning." When we told him about a house in Jefferson-Chalmers where an elder woman had signs up for both him and Duggan, he definitively stated, "That lady likes us more though, because we're winning."
Unfortunately for Young, neither claim appears rooted in fact. Though he's gained additional support from would-be voters since unveiling a progressive (albeit, probably
over-ambitious
) plan for Detroit, Duggan continues to lead by a wide margin, according to a new poll from Lansing-based Target-Insyght. The survey of about 400 likely primary voters, conducted last week, found 64 percent of them planning to vote for Duggan, and 30 percent planning to vote for Young. The remaining respondents were undecided or planned to vote for lesser-known candidates Ed Dean and Donna Marie Pitts.
The poll reflects a 7-point improvement for Young since Target-Insyght's last survey in May, which found him with only 23 percent of the vote. But Duggan has outpaced Young's margin of improvement, going from 55 percent to 64 percent.
Duggan is performing well among Detroit's senior citizens, with Target-Insyght pollster Ed Sarpolus
telling The Detroit News
that 41 percent of survey respondents were 61 or older. He's also getting more of the African-American vote than Young.
The black elderly woman whose lawn signs suggest she supports both candidates is going with Duggan, despite Young's claim. She tells us she allowed both camps to stake their signs in her yard to be nice, and that she has mailed in an absentee ballot with the bubble filled in next to Duggan's name.
The primary election is Aug. 8. Duggan and Young are expected to win and go on to be the only two mayoral candidates on the November ballot.