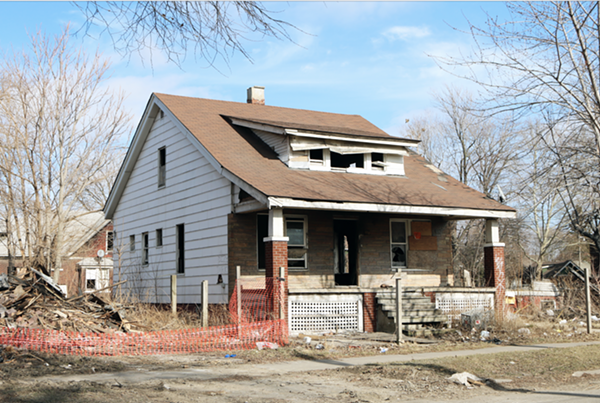 A federal grand jury is investigating Detroit Mayor Mike Duggan's ambitious demolition program that has been allotted more than $250 million in federal funds to teardown thousands of blighted houses.
Metro Times
confirmed the probe Tuesday after seeing a subpoena received by a contractor the city did business with.
The
Detroit News
broke the story earlier that day after obtaining a copy of subpoenas and speaking with sources familiar with the investigation. According to the paper, the investigation is looking into
whether federal demolition dollars were misappropriated
. The
News
reports as many as 30 contractors and city agencies are believed to have been subpoenaed to testify or provide documents.
"If a grand jury is looking at this, it means someone in the U.S. attorney's office believes that there's criminal activity afoot to the degree that they can seek an indictment," longtime Detroit criminal defense attorney David I. Lee tells
Metro Times
. "G
rand juries are really a rubber stamp for a prosecutor; the government brings witnesses to make its case and there are no cross examines."

It's not yet clear who the target of the probe may be.

The investigation is underway alongside a probe by the Special Inspector General for the Troubled Asset Relief Fund and FBI over bidding practices and escalating costs associated with the demo program. SIGTARP picked up the case about at least a year ago, after an invitation-only meeting in which four companies negotiated prices with the city for bulk demolition work. Once contract prices were set, only companies that were in on that meeting applied for and got the work.

A source familiar with the latest investigation tells the
News
that the grand jury is looking at possible violations of federal wire fraud and antitrust laws that prevent bid-rigging and unfair competition for federal funds.
Investigators have reportedly subpoenaed contractors for copies of communications with Duggan's office, the Detroit Building Authority, the Detroit Land Bank, and — possibly — the Detroit City Council. Communications with the Michigan State Housing Development Authority, Michigan Homeowner Assistance Nonprofit Housing Corp., Michigan Blight Elimination Team and others were also reportedly sought.
The News
reports that a subpoena sent to one contractor asked for all financial records pertaining to work completed or bid on under the federal Hardest Hit Fund, which has given more than $250 million to the city's demolition program. The subpoena sought communications involving contracting companies Homrich, ADR Consulting, MCM Management Corp., Bierlein Companies, Attwell, and Atwell/DCR.
Attorney Lee says it's not possible to determine what case federal prosecutors may be trying to make based on that information.
"Subpoenas are issued for different reasons," explained Lee, who had no specific knowledge of this case. "They can be issued to someone that's a target of an investigation, who would of course not testify, but more importantly for these proceedings — witnesses are subpoenaed."

Anonymous sources WDIV spoke with say the mayor and mayor's office are not targets of the investigation.

"We have fully cooperated with this investigation from the very beginning, and will continue to do so," said Duggan's chief of staff, Alexis Wiley. "The mayor's position has always been that if anyone has done something wrong, they should be punished."