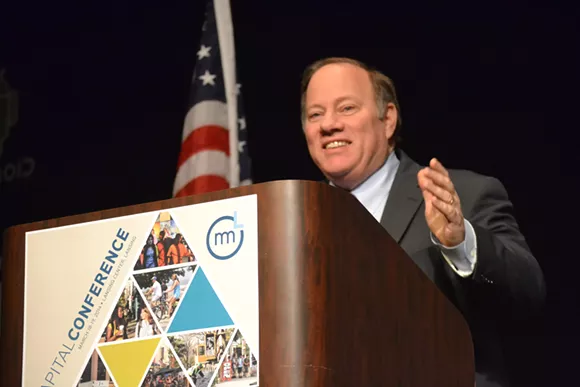 At an invitation-only meeting held Saturday Detroit Mayor Mike Duggan told a group of more than 100 community leaders that he plans on running for a second term, according to attendees.
"There was little question that he is going to run again. They even showed campaign signs," activist Thomas Page told
The Detroit News
of the event, which was held at the offices of SEIU Healthcare Michigan.
Detroit's first white mayor in 40 years, Duggan will doubtlessly run on the tangible changes made during his first four-year term. Among them: an $185-million initiative
to replace the city's old streetlights
with 65,000 new energy-efficient LED lights, as well as an aggressive blight removal program which has seen
more than 10,000 demolitions
.
The demolition program, which uses federal funding, is currently
under investigation
for the costs of demolitions, which have increased during Duggan's administration.
Duggan's unofficial mayoral bid comes ahead of a formal, public announcement, which is expected Feb. 4. The primary election will be held Aug. 8, and the election will be held Nov. 7.