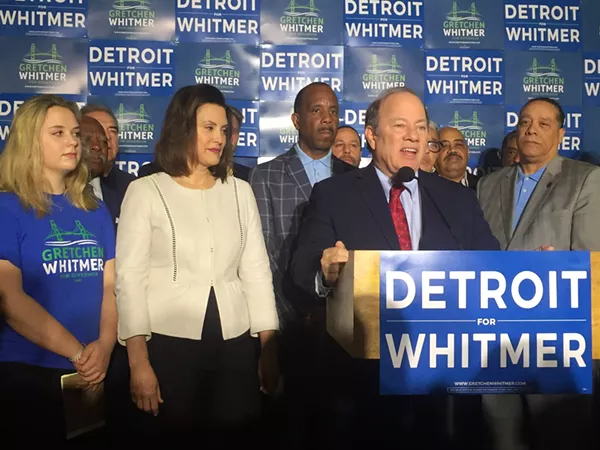 Detroit Mayor Mike Duggan has officially endorsed Democrat and former state Sen. Gretchen Whitmer for governor.
"We have a lot at stake," Duggan told a crowd packed into Whitmer's newly opened headquarters in northwest Detroit Wednesday morning. "I don't think we've ever had two choices so fundamentally apart as far as where we're going."
The endorsement comes following word that Duggan, doubting Whitmer's viability as a candidate, had been
searching for an alternative
as recently as last month. The reports were that he and leading Michigan Democrats had met with Sen. Gary Peters in an effort to convince him to run.
Speaking with reporters following the formal endorsement, Duggan addressed the issue head on.
"We've got a huge race on our hands and the the two leading Republican candidates have statewide elected experience," Duggan said. "Sen. Peters, having run statewide would have had an easier time of it, so we were looking into who could do it, but Sen. Whitmer, on the other hand, has never lost.
"It means we're going to have to work a little harder and it's going to be a 50-50 race."
Whitmer told those gathered in her Detroit headquarters — an old clothing store on the Livernois "Avenue of Fashion" near Seven Mile — that, if elected, she would be a partner to the mayor and help build on the improvements the city has seen over the past several years.
"Michigan will not be a successful state unless Detroit is a successful city," she said. "The exciting things that are happening in Detroit, from blight coming down to property values rising, to the lights being turned on, to businesses that are thriving to jobs that are growing, we need to expand on that."
Whitmer also indicated she hoped to have a chance to emulate Duggan's leadership style in Lansing.
"His passion for Detroit is same level of passion I feel for the state of Michigan — that his commitment to working with everyone who wants to solve a problem and
taking on anyone who stands in our way
is something that I share too," she said.
It's a markedly different tone from the one taken by Whitmer's toughest competitor in the Democratic primary race, Dr. Abdul El-Sayed, who served as Detroit's health director under Duggan. Last week, at a town hall in Detroit, El-Sayed was reported to have told a crowd of city residents that he
"deeply" disagreed
with his ex-boss' policies on water shutoffs and demolitions.
"I challenged him so much I got kicked out of meetings," El-Sayed said.
Duggan told reporters Wednesday that El-Sayed demonstrated himself to be a "smart, hardworking person," in his role for the administration, but that Whitmer's experience compelled him to endorse her instead.
"You look at the 14 years that Sen. Whitmer spent in Lansing, you look at the track record she put together, some of the bipartisan bills she did including getting street lights on," he said. "I'm not saying a bad word about Dr. El-Sayed — we have an outstanding candidate here whose gonna be a great governor."
While Duggan's endorsement is a significant step to getting Detroiters in the East Lansing Democrat's corner, he says work remains to ensure that city residents turn out in November.
"The thing that we gotta impress upon them is that your vote is never going to matter more than it does in the governor's race of 2018," he says. "You look at what's happening in the schools in Detroit … you look what's happening on the roads, you know, Lansing matters."
Whitmer has also received endorsements from labor groups including the state's largest school union, the
Michigan Education Association
.
Other Democratic primary candidates include businessmen Shri Thanedar, from Ann Arbor, and Bill Cobbs, from Farmington Hills.