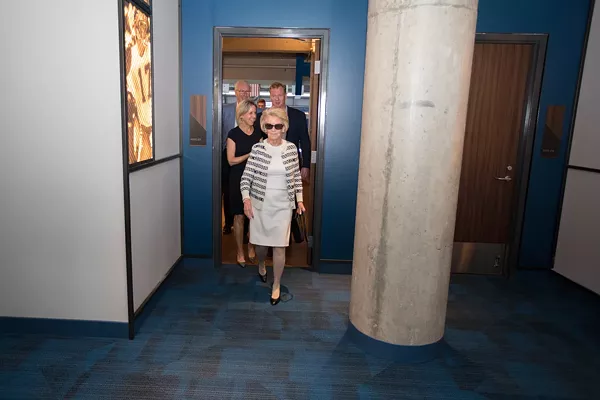 President Donald Trump made headlines yet again on Friday when he said
NFL owners should fire "any son of a bitch
" who doesn't stand and protest the national anthem. Trump was clearly referring to NFL player and free agent Colin Kaepernick, who originally took a knee during the anthem a year ago to protest police brutality against black people, and other civil rights issues.
Trump said to a crowd in Alabama at one of his "rallies" that, "I'd love to see one of these NFL owners, when somebody disrespects our flag, to say, 'Get that son of a bitch off the field right now. He's fired.'"
The fun continued Saturday afternoon when Trump went on a tweet storm, pretty much paraphrasing his remarks from Friday night in Alabama.
Going to the White House is considered a great honor for a championship team.Stephen Curry is hesitating,therefore invitation is withdrawn!

— Donald J. Trump (@realDonaldTrump) September 23, 2017
If a player wants the privilege of making millions of dollars in the NFL,or other leagues, he or she should not be allowed to disrespect....

— Donald J. Trump (@realDonaldTrump) September 23, 2017
...our Great American Flag (or Country) and should stand for the National Anthem. If not, YOU'RE FIRED. Find something else to do!

— Donald J. Trump (@realDonaldTrump) September 23, 2017
Detroit Lions owner Martha Ford joined many other NFL owners Sunday morning condemning Trump's comments at his rally in Alabama.
"Our game has long provided a powerful platform for dialogue and positive change in many communities throughout our nation," Ford said in her statement. "Thanks primarily to our players, the NFL also has been a unifying force in our country and impactful change has and hopefully will continue to be the result of peaceful expression, done so in order to highlight social injustices of all kind."
She continued, "Negative and disrespectful comments suggesting otherwise are contrary to the founding principles of our country, and we do not support those comments or opinions."
Many athletes (especially NFL players) took to social media yesterday to defend those players protesting and to call out the president.
Lebron James, who is clearly not a NFL player, even took a stand and called the president a "bum" in a tweet.
U bum @StephenCurry30 already said he ain't going! So therefore ain't no invite. Going to White House was a great honor until you showed up!

— LeBron James (@KingJames) September 23, 2017
Detroit Lions tight end Eric Ebron had one of the best responses to Trump, calling out the double standard that the president fails to see all too often.
Does anyone tell trump to stick to politics, like they tell us to stick to sports? Smh.

— Eric Ebron (@Ebron85) September 23, 2017
Even just this morning Trump has spiraled out again, rage tweeting that
NFL attendance and ratings are down
and that the games are boring.