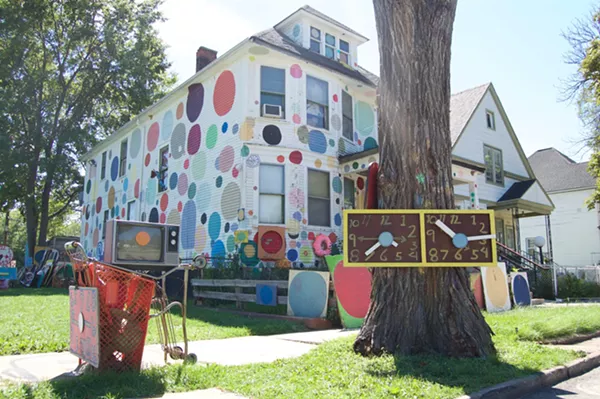 Tyree Guyton, who grew up in a poor family with nine siblings in Detroit, was 32 when he decided to use art to combat blight, abandonment and violence that were consuming his east side neighborhood.
In the three decades since then, Guyton's Heidelberg Project has transformed a two-block area into a world-renowned outdoor art installation that attracts 200,000 visitors a year from around the globe.
But once again, the Heidelberg Project has been stymied by its longest and fiercest critic — city hall.
Mayor Mike Duggan's Detroit Land Bank, which owns more than 45,000 abandoned houses and empty lots, has twice rejected the Heidelberg Project's proposal to buy nearly 40 pieces of vacant land to create a new artists' community at its current location between Mt. Elliot, Elba, Ellery, and Heidelberg.
Heidelberg Project CEO Jenenne Whitfield says the Land Bank has offered no explanation for rejecting her two proposals, which are supported by City Councilwoman Mary Sheffield.
"With each new administration there is a new of hurdle to go through," Whitfield told the
Metro Times
on Monday. "We've been taking care of that land for 31 years, and it has become a really interesting, dynamic place. We have people moving into the area. We have a vision for an art-infused community."
Vince Keenan, who is District 5 manager for Detroit's Department of Neighborhoods under the mayor, didn't support the proposals, which include new apartments and a cafe, but the mayor's administration has declined to say why. So has Land Bank spokesman Craig Fahle.
"We reserve the right to approve and disapprove of any applications, and we will do our due our diligence on every application that comes in," Fahle says.
Neither Keenan nor the mayor's office returned a call for comment.
Despite its popularity, the Heidelberg Project has not been without controversy. Federal investigators are still trying to determine who used acetone to burn down seven of the project's art-adorned houses during the nonprofit's fundraising efforts in 2013. Some neighbors also have complained about the traffic and installations that are assembled from discarded objects and spread across dozens of abandoned lots.
But in 1991, then-Mayor Coleman Young sent in bulldozers and police, demolishing installations and four art-festooned Heidelberg Project homes, including the "Babydoll House," which was adorned with dismembered, naked, and sometimes burned dolls. Inside the home, which represented missing and abused children, were all of Guyton's paintings and sculptures. The decision to destroy the art came two months after Oprah Winfrey called Guyton's artwork a nuisance on national TV.
The destruction took a toll on Guyton, whose brother, grandfather and nephew died within a couple of years. Guyton found himself homeless, divorced, and struggling to make ends meet.
Clutching a .25 automatic, Guyton thought about ending his life.
"People are coming from all over the world to see what I do," he told the
Los Angeles Times
in 1995. "They tell me my work gives them hope, gives them something to think about, gives them a reason to come to the city of Detroit. It makes them happy, and here I am in pain. … Isn't that something?"
Guyton bounced back. In 1995, during the O.J. Simpson trial, he began working on his first post-demolition installation, dubbed the "O.J. House," to elevate discourse about racism and poverty. He soon added more homes and installations, drawing praise from art critics and complaints from some neighbors who accused him of glorifying blight.
In 1998, the Detroit City Council ordered the demolition of all installations and houses on city property, which accounted for most of the project. City Councilwoman Kay Everett even offered to personally bulldoze the project, calling it "glorified garbage."
But protesters blocked demolition crews, and a judge issued a restraining order against the city.
Despite the judge's order, then-Mayor Dennis Archer ordered demolition crews to level three houses in early 1999.
Guyton, who was incensed that the city would destroy his artwork instead of demolishing tens of thousands of other abandoned structures, pledged revenge and began painting polka dots on abandoned houses and buildings throughout the city.
When the demolition trucks left, Guyton immediately began rebuilding. In 2003, he finally found an ally — Mayor Kwame Kilpatrick — and the city even hired Guyton to paint a garbage truck for a Thanksgiving parade float.
Without resistance from city hall, the Heidelberg Project thrived as Guyton became popular in Germany, Brazil, Ecuador, and Australia.
A 2011 study by the Center for Creative Community Development found that 50,000 people visited the Heidelberg Project a year.
Since 2006, the Heidelberg Project has raised about $3 million and added about nine employees to the nonprofit, which also works with children and artists to promote creativity.
Then came the fires.
On Oct. 5, 2013, an arsonist burned down the O.J. House. Over the next five months, another six houses were set afire.
No suspects have been arrested, but the Heidelberg Project erected a $10,000 solar-powered security system that included high-definition security cameras. Guyton wasted no time replacing the burned structures with new installations.
The Heidelberg Project's latest efforts are dubbed "3.0."
"The idea is to take all 31 years of what we learned and roll it out in a dynamic way that we can all be really proud of," Whitfield says. "If we don't find a way to fight for this project, the city is going to look really bad."

Steve Neavling is the editor and publisher of Motor City Muckraker.