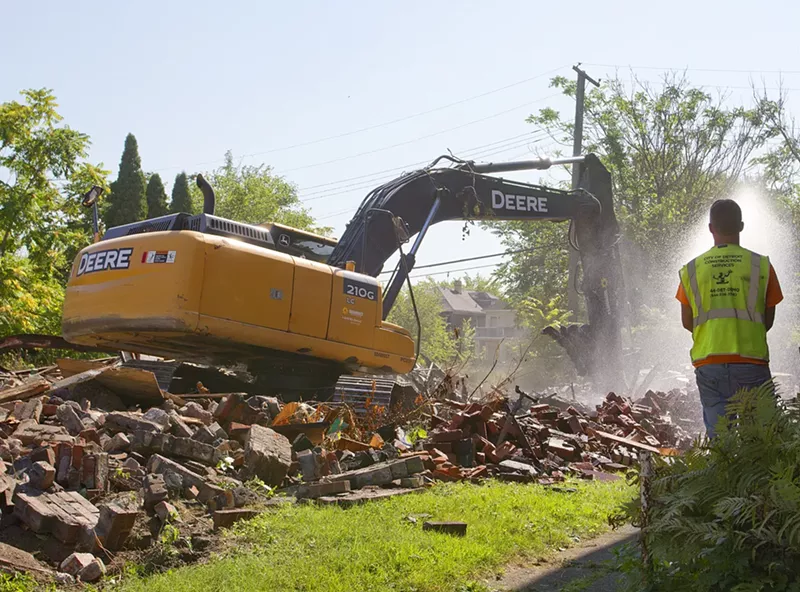 The Detroit Land Bank Authority (DLBA) will pay the federal government $1.5 million over
claims that it failed to substantiate $13 million
in payments to contractors.
The DLBA Board voted Friday to pay the money as part of a settlement agreement to close a federal investigation that began in 2019.
The federal government's Troubled Asset Relief Program (TARP) alleged the Land Bank doled out federal funds to demolition companies without contractors documenting the cost of dirt used as backfill between 2017 and 2019. As a result, it was impossible for TARP discern whether the tax dollars were properly spent.
"Absent this information, the Michigan and other state agencies cannot verify the accuracy of contractors' reimbursement claims, and taxpayers have no assurance that contractors are not inflating reimbursement requests for demolition materials to exceed their actual costs,"
TARP said in a letter to the Treasury Department
in June 2021.
DLBA CEO Tammy Daniels said the settlement won't cost city taxpayers a dime because it comes from federal funds.
"We ran demo as an independent program, keeping field and contractor expenses separate from our general operating budgeted and annual City subsidy," Daniels said in a statement. "The City and its residents can rest assured that this investigation did not call into question the safety or effectiveness of the land bank's demo program in eliminating blight, and this settlement will not be funded by any City tax dollars."
The DLBA approved the settlement to "avoid the delay and expensive of litigation" and insists "it provided all documentation requested and required for grant reimbursement under the program."
This wasn't the first time the Detroit Land Bank has come under fire over dirt used in demolitions. In March 2021,
the Detroit Office of Inspector General
found that contractors were putting untested — and potentially contaminated — dirt into the ground at demolition sites.
Separate state and federal investigations also found that the city was overpaying demolition companies for years.
Since 2014, the city used more than $265 million in federal funds to demolish more than 15,000 houses.
Coming soon: Metro Times Daily newsletter. We'll send you a handful of interesting Detroit stories every morning. Subscribe now to not miss a thing.

Follow us: Google News | NewsBreak | Reddit | Instagram | Facebook | Twitter