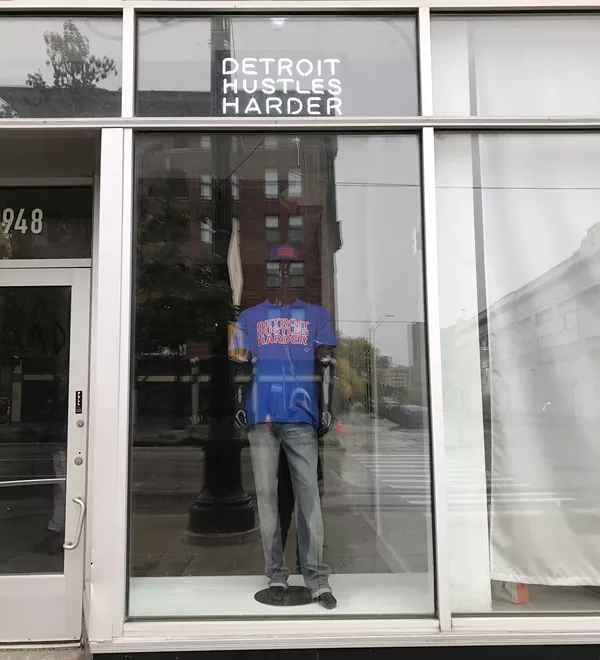 A new retail location that will feature clothing from Detroit Hustles Harder, glass art and creations from Detroit artists is slated to open on Woodward Ave. later this month.
For now, the only indication of a new occupant in the long-vacant space located near the corner of Charlotte Street and Woodward Avenue is a mannequin donning a classic "Detroit Hustles Harder" t-shirt and a small neon sign of the company's slogan. The inside of the store is still a work in progress.
The plan for the collaborative, which will be called 'Motown Shakedown,' is to have different glass sellers and clothing from Detroit Hustles Harder in the front part of the store. The back part of the store will serve as a gallery for new installations and paintings from Detroit-based artists. The gallery will eventually display art on a rotational basis, according to the store's organizers.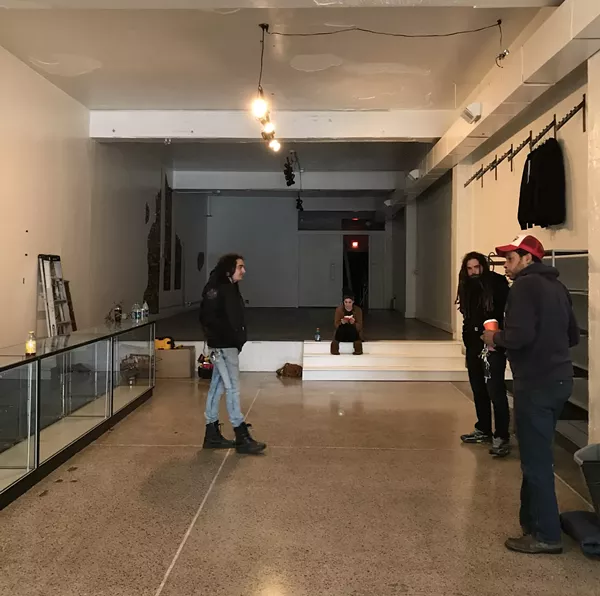 Detroit Hustles Harder sponsors the annual
Michigan Glass Project
, a live art, glassblowing, and music festival that benefits Art Road Nonprofit, an organization which promotes returning art classes to Detroit public schools.
Motown Shakedown would be the only other location to purchase Detroit Hustles Harder gear apart from their flagship store on Division Street in Eastern Market. The flagship is one of the properties in Eastern Market that will see substantial rent increases, Brendan Blumentritt, the co-owner, said.
"Eastern Market jacked up the rent, so things are a little up in the air," said Blumentritt. "But we plan on staying open through the holiday season and keeping the flagship, whether it be in Eastern Market or somewhere else in Detroit."
The new store on Woodward Avenue, Blumentritt added, will be a permanent one.
The grand opening is scheduled for November 24, but the store also plans to be open for Parade Day.
Lucas Maiman is a fall intern at Metro Times.


Editor's note: The article originally attributed Detroit Hustles Harder as hosts of the Michigan Glass Project.
Stay on top of Detroit news and views. Sign up for our weekly issue newsletter delivered each Wednesday.