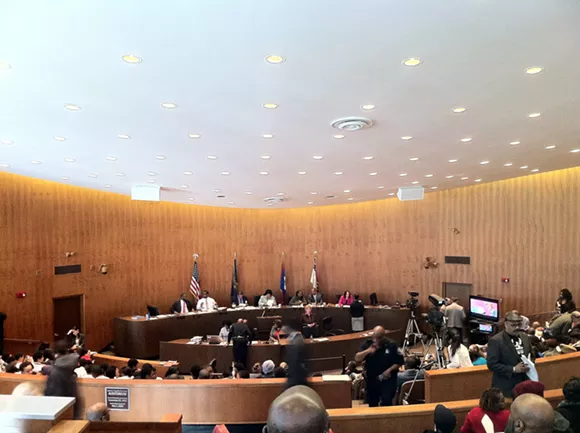 A cascade of foreclosures could soon crash over Detroit, and while city, county, and state officials have pledged to take precautions to ease the blow, local activists have stepped up to offer a solution of their own.
A large crowd turned out Tuesday for a Detroit City Council's meeting, where many were expected to speak on the estimated 62,000 properties set to go into foreclosure. The council had to move the meeting into the Erma Henderson Auditorium to accommodate the audience of about 200.
As
MT
reported last week, about 28,000 of those properties are owned by individuals who reside within them. So far, 7,500 of those owner-occupied homes have been secured by payment plans to address back-taxes.
During Tuesday's meeting, Councilman Gabe Leland pointedly summed up the issue: "We are experiencing historic property tax foreclosures in the City of Detroit."
The state Legislature late last year green-lighted a number of programs to address the issue by allowing homeowners to enter into payment plans to address past due taxes at a reduced interest rate of 6 percent, rather than 18 percent. In addition, taxes can be paid over a five-year period. Payment plans also cap back taxes at no more than 25 percent of a home's market value.
But that doesn't appear to be enough, said Leland, who suggested a possible moratorium on foreclosures should be considered. Leland's remarks drew a round of applause from the audience.
Errol Jennings, president of the Historic Russell Woods-Sullivan Area Association, would agree.
Jennings and members of his association were expected to present Detroit City Council with a resolution they say would help address the foreclosure crisis, mainly driven by the implementation of a moratorium for one year.
In a letter sent earlier this month to Gov. Rick Snyder, Mayor Mike Duggan, U.S. Rep. Brenda Lawrence (D-Southfield), and State Rep. Fred Durhal III, who represents the Russell Woods-Sullivan area, Jennings wrote, "This crisis affects over 100,000 residents, or nearly one-fifth of the population, who may be forced to leave their family homes. This is a crisis!"
Russell Woods alone has 300 homes subject to foreclosure, a number so extreme, Jennings told
MT
by phone last week, that it would fundamentally alter the neighborhood's landscape.
"This is one-third of our neighborhood and this amount could send a shockwave of blight, crime, and crash our already low home values," he wrote in the letter. Jennings urged the county treasurer to "pull all owner-occupied structures off of the tax-foreclosure rolls to allow owner-occupants the opportunity to benefit from new tax cap laws and reassessment opportunities; and extend the deadline to complete documentation processes for new programs to avoid foreclosures and to enter stipulated payment agreements under the new law."
Currently, the deadline for individuals to take advantage of those programs is March 31.
Instead, the association says in its resolution, a moratorium should be enacted on "all tax foreclosures for one year to allow the government to develop a fair, equitable and comprehensive plan to deal with unfair tax burdens and delinquent taxes."
Jennings letter also touches on a hint of irony: The Michigan Hardest Hit Fund's "Step Forward" program has reallocated some funds intended to keep families in their homes to efforts across the state to remove blight. But, Jennings claimed, the program hasn't assisted Detroit residents in its initial mission.
"For those who applied, thousands were denied as being 'too poor' to qualify, which probably means the property should be tax exempt!" he wrote in the letter, adding, "We have one Russell Woods resident that has applied three times without resolution."
Councilwoman Raquel Castaneda-Lopez said Tuesday she has requested the council's Legislative Policy Division to draft a resolution in support of a moratorium on tax foreclosures for one year. The resolution would still require an affirmative vote by the council.
Speaking earlier in the meeting, President Brenda Jones emphasized that foreclosures were an obvious concern to every council member.
"We need to do what we need to do to keep them in their homes," Jones said to applause.
"We have to help our citizens stay in their homes."