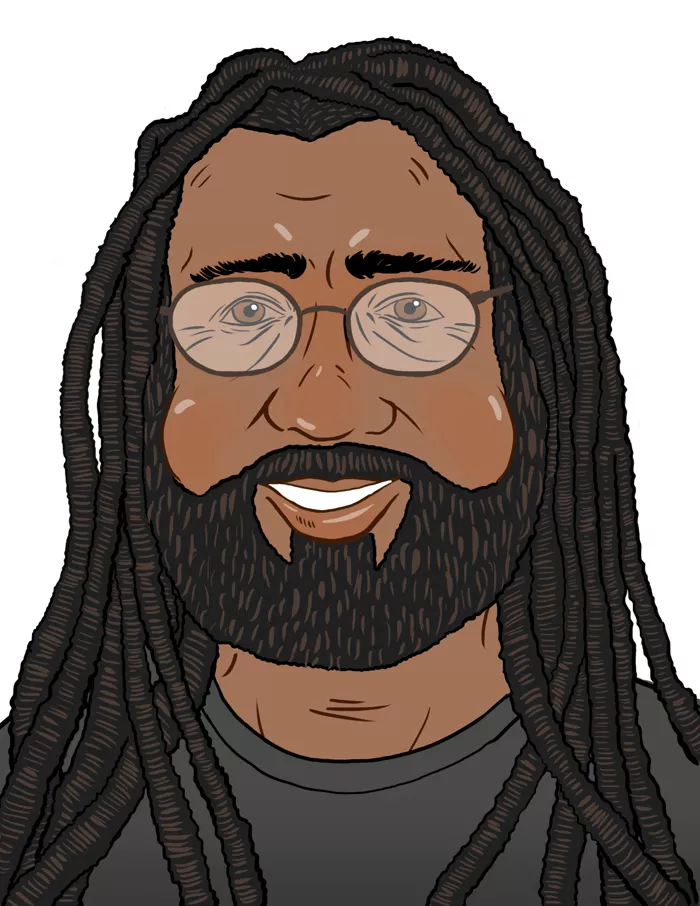 A dinner meeting of the Healing Support Network seems pretty informal. Held at a private home on the west side, members show up during the appointed hours. Some eat and stay around for a short presentation about nutrition or some aspect of healthy living. Some eat and leave. Still others arrive to stock their containers with food and go on their way.
I visited the meeting at the west side home of Raziya Curtis, who has been coordinating the HSN since 1987. Last week's dinner was vegetarian — hummus with spinach, crushed lentil soup, a fresh green salad and muffins with fruit in them. They're pretty much always vegetarian, although Curtis says they have a new chef who will occasionally incorporate salmon or goat cheese into meals. Curtis and friends believe food is medicine, and this event probably counted as a healing session. Good food, convivial atmosphere and a little education. That certainly seems good for what ails me.
One woman there, Rhonda, shared her own tale of hip problems and surgery that kept her from gardening for three years. She said that she has three screws in her hip, but she never took prescription drugs through the whole ordeal; she just ate the right kinds of foods. She walked into the meeting with no discernible hitch in her gait, and declared that she would be back to gardening this year.
"I'm into whole foods, green foods, raw foods and super foods," Rhonda said. "I'm focusing on the brain."
I wonder if there was any food that kept her from screaming "ouch" a lot during that time.
Curtis and two friends founded the network as an observance of the Kwanzaa principle of Ujima, collective work and responsibility. They all faced severe health challenges and personal tragedies at the time. Their mission was to be collectively responsible for each other's health and well-being. It worked then — and it's still working now.
The Network has grown well beyond just three members since then — their email list is around 400 addresses — but is still a private-membership group that holds weekly meetings in members' homes. Their mission: "To encourage preventive health practices and maintenance through proper use of food, vitamins, minerals, herbs, exercise and spiritual practices — a country folk-city folk coalition for better nutrition and functional lifestyles."
That's kind of a mouthful, but you get the general idea. In some areas of Detroit, it's hard to tell if you're in the country or the city.
In addition to the food and education, Curtis organizes an annual Rejuvenation Retreat to Hilton Head Island in South Carolina. Those trips are centered on Gullah cultural establishments and events, in addition to food preparation classes, reflexology, massage and something called Rama Chi.
Last week's meeting featured a short presentation by Jamie Tata from Keep Growing Detroit's Garden Resource Program. He spoke about the program — which supported 1,244 gardens in Detroit, Hamtramck and Highland Park last year — and how gardening is one of the community organizing forces helping to change the Brightmoor neighborhood for the better.
Curtis has a master of social work degree and uses the group support model of that discipline for her community work. Network members will deliver food to shut-ins. Curtis' commitment to community responsibility has extended to, at times, her taking in adults who have lost their homes.
It has been a very grassroots and home-based kind of thing, but those 400 email addresses portend something more substantial. Last year, Curtis worked with a member who's a marketing professional. They came up with a development plan to expand and have meetings in larger spaces. The process has already begun, and this week's meeting on Thursday is at Unity Temple near Palmer Park.
"There's more community awareness of our existence, and we want a bigger space at least a couple of times a month," says Curtis, who sounds a little bit conflicted with the growth. "The smaller space has served us well. For some people, that's the only way they would come. When you're not feeling well or looking your best, you feel more comfortable in the home setting. We need to keep both kinds of space useful."
There can be great power in the home meeting. That's where most community organizers start. Mayor Mike Duggan solidified support for his mayoral bid by holding hundreds of meetings in the homes of Detroiters.
Curtis has a dream too. She would like to see eight different locations in metro Detroit where members can access food from the HSN within 10 or 15 minutes of their homes. She looks at the access people have to fast food restaurants.
"You never see just one McDonald's," she points out. "You see one here, and not too far down the road there is another one. People will attend more frequently if that place is close. That's just common sense. This year we want to get out more into the community and network with other organizations."
Convenience is a sticking point for vegetarians, vegans and people on other kinds of diets. How can you conveniently access the food you need from reliable sources? All too often people will make less-than-desirable eating choices because it's convenient. Or make the choice not to eat at all.
So while she seeks wider influence, Curtis maintains the grassroots course from her home, where a backyard garden is taking some attention as we approach planting season. She solicits volunteer help for what she calls the "sprouting ministry," producing live food for better nutrition. One guy at the meeting recounts how he grew tomatoes and peppers on a bound bale of hay. A couple of others take note of the information for possible use.
That's the feel and strength of healing support in a west side living room — people eating and sharing, talking about what works for them. Something like a family.
The Healing Support Network can be reached at [email protected].
It's garden time: Actually, as I've learned the past few years, it's never not garden time. But we're moving into one of the more intense seasons for folks who just get their green thumb thing going in the summer. Keep Growing Detroit has a series of events coming up that can help make this a successful season. There is a raised bed workshop, a strawberry workshop, sweet potato workshop, a basic gardening class, and transplant and seed distributions coming up over the next several weeks. Check out detroitagriculture.net for more information.
KGD, along with the Detroit Food Policy Council, Eastern Market Corporation and the MSU Regional Center (that's a lot of names but we're dealing with community cooperation here), welcome national food systems expert Anthony Flaccavento to town this weekend. The program starts at 6 p.m. Friday, March 21, and is titled: "What's love got to do with it? Channeling local foods passion into a movement for community, economic and national renewal." It's at the Detroit Mercantile Co. (3434 Russell St., Detroit). Saturday's program at Vanguard Community Development (2785 E. Grand Blvd., Detroit) is titled "Greater Yield: Tools for planning and managing your farm or garden to increase profit and improve sustainability."